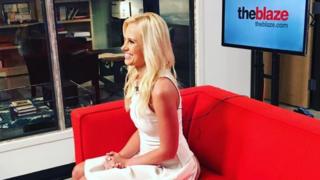 US conservative political commentator Tomi Lahren has reportedly been suspended from her talk show after saying she holds pro-choice views on abortion.
The 24-year-old pundit hosts "Tomi" on the conservative US network TheBlaze.
She rose to prominence during the 2016 US election for her provocative and energetic online political monologues.
Ms Lahren has faced a huge online backlash since speaking on ABC's "The View" last week.
The young Republican who's bigger than Trump on Facebook
Ms Lahren said: "I'm someone that is for limited government, so I can't sit here and be a hypocrite and say I'm for limited government, but I think that the government should decide what women do with their bodies.
"Stay out of my guns, and you can stay out of my body as well."
Anti-abortion views are seen as fundamental to the US Republican Party platform and conservative political views in the US.
Ms Lahren has since defended her comments on Twitter, saying: "I speak my truth. If you don't like it, tough."
Reports suggest her show may now be cut altogether, amid rising tensions between Ms Lahren and other Blaze employees and hosts.
The network's founder Glenn Beck has spoken out again Ms Lahren and another reporter Kaitlyn Schallhorn, tweeted: "Even Hillary Clinton didn't call pro-life conservatives hypocrites."
The conservative network describes itself as "a platform for a new generation of authentic and unfiltered voices".
Ms Lahren has 4.3 million followers on her Facebook page, almost 3 million more than President Donald Trump himself.
US TV host Tomi Lahren 'suspended over pro-choice comments'