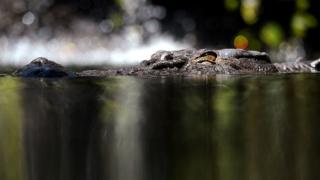 An Australian teenager has survived a crocodile attack after entering a river apparently on a dare, authorities say.
Lee de Paauw, 18, managed to escape the reptile when it latched on to his arm in Far North Queensland on Sunday.
He suffered lacerations and fractures before undergoing surgery in hospital.
Witnesses said Mr de Paauw jumped into the river as part of a dare, according to Queensland Ambulance Service paramedic Neil Noble.
"We're just grateful that he has survived this incident because it could have turned out to be fatal," he said.
"Certainly to get out the water was absolutely vital in case that crocodile was able to get a good grip on him."
Quick attack
The incident happened in the Johnstone River in Innisfail about 02:30 local time (15:30 GMT Saturday).
British backpacker Sophie Paterson said she did not believe Mr de Paauw would follow through on the dare.
"It all happened very fast, pretty much as soon as he jumped in, there was splashing and screaming," she told the Courier Mail.
Crocodiles have been responsible for eight deaths in Queensland since 1985.
Teenager survives crocodile attack in Queensland}