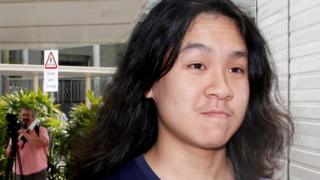 Singapore teen blogger Amos Yee, who was jailed twice in his homeland for posting political and religious criticism online, has been granted asylum in the United States.
Mr Yee, 18, has been detained in the US since he arrived at Chicago's O'Hare airport in December.
He came into the country on a tourist visa but told immigration officials he was seeking refuge.
Following Friday's ruling, he is expected to be released shortly.
The US Department of Homeland Security opposed Mr Yee's asylum application, but the immigration judge ruled in the teenager's favour.
Judge Samuel Cole released a 13-page decision, which said Mr Yee faced persecution in Singapore for his political opinions.
"Yee has met his burden of showing that he suffered past persecution on account of his political opinion and has a well-founded fear of future persecution in Singapore," Judge Coel ruled.
"Accordingly, this court grants his application for asylum."
Mr Yee's lawyer, Sandra Grossman, said he could be released as early as Monday.
In statement, Ms Grossman applauded the judge's decision and said, "The right to free speech is sacred, even when such speech is considered offensive."
In September 2016, the teenager was given a six-week prison sentence in Singapore after being found guilty of "wounding religious feelings".
He had posted a video critical of Christianity and Islam.
He was also jailed by a Singapore court for four weeks in 2015, for criticising Christians and for posting a video about the country's former Prime Minister Lee Kuan Yew.
His video, posted on YouTube days after his death, compared the widely-respected founding father of Singapore to Jesus Christ.
Later, he posted a crude cartoon depicting Lee Kuan Yew and former UK Prime Minister Margaret Thatcher, who was one of his allies.
The posts provoked various police complaints, and Mr Yee was reported to have received violent threats.
Singapore teen blogger Amos Yee granted US asylum}