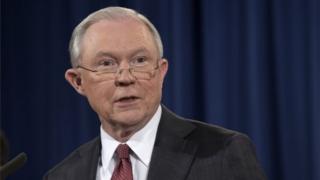 US Attorney General Jeff Sessions has removed himself from an FBI investigation into alleged Russian interference in the US election.
Calls for his recusal mounted after revelations that he met Russia's envoy during the election, apparently contradicting his earlier statements.
America's top prosecutor testified at his confirmation hearing that he had "no communications with the Russians".
President Donald Trump has said he has "total confidence" in Mr Sessions.
"I have decided to recuse myself from any existing or future investigations of any matters related in any way to the campaigns for President of the United States," Mr Sessions said in a statement.
In a news conference at the Justice Department in Washington DC, he said his comments at his confirmation hearing were "honest and correct as I understood it at the time".
"I appreciate that some take the view that this was a false comment. That is not my intent. That is not correct."
During the Senate hearing on 10 January, Mr Sessions was asked: "If there is any evidence that anyone affiliated with the Trump campaign communicated with the Russian government, in the course of this campaign, what will you do?"
Mr Sessions responded: "I'm not aware of any of those activities. I have been called a surrogate at a time or two in that campaign and I did not have communications with the Russians. And I'm unable to comment on it."
Sessions steps aside from Russia probe