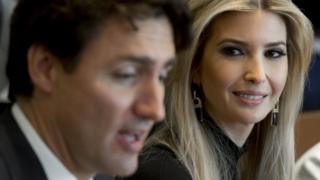 President Trump's daughter Ivanka Trump will get an office in the White House, an administration official has said.
But she will not have an official title or salary when she works in the West Wing – the hub of US executive power.
The official also confirmed media reports that the 35-year-old would have access to classified information.
Her role will be to serve as Donald Trump's "eyes and ears" while providing broad-ranging advice, her attorney was quoted as saying by Politico.
Ms Trump, who has her own fashion brand, will be joining her husband Jared Kushner, who is a senior adviser to the president.
The couple's reported influence on the president has raised questions about possible conflicts of interests.
It has also triggered debates whether there are clear boundaries between the Trump family's political and business activities.
Since Mr Trump's inauguration in January, Ms Trump has been seen attending meetings with world leaders, including Canadian Prime Minister Justin Trudeau and German Chancellor Angela Merkel.
President Trump's daughter Ivanka to get White House office