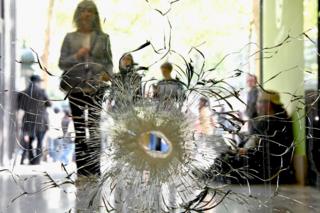 The gunman killed after shooting dead a policeman on the Champs Elysees has been named by the Paris prosecutor as Karim Cheurfi, a convicted criminal.
He used a Kalashnikov assault rifle to kill the police officer with two bullets to the head, François Molins told journalists in the French capital.
A note defending so-called Islamic State was found near his body.
Candidates in Sunday's presidential election have been accused of exploiting the attack politically.
Cheurfi had four criminal convictions, the prosecutor said.
Friday is the last day of campaigning before Sunday's presidential election.
The killer spoke about wanting to kill police officers earlier this year but he had no apparent link to Islamist radicalism, Mr Molins said.
IS has said one of its "fighters" carried out the attack.
What do we know about the killer?
Cheurfi was arrested and his home searched in February after an inquiry was opened over reports that he had been talking of killing police and getting weapons, Mr Molins said.
Hunting knives, masks and a GoPro camera were found but this was not considered sufficient proof of his murderous intent.
"At that stage, no link with the radical Islamist movement was apparent," the Paris prosecutor said. "Nothing justified further investigations by my office."
Born on New Year's Eve in 1977 at the Livry-Gargan suburb of north-eastern Paris, Cheurfi was jailed four times between 2007 and 2014, for attempted murder, violence and theft.
Paris Champs Elysees attack gunman named as Karim Cheurfi