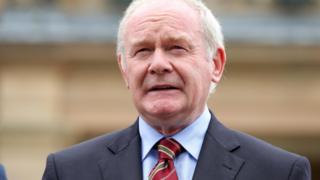 Sinn Féin's Martin McGuinness, Northern Ireland's former deputy first minister, has died aged 66.
It is understood he had been suffering from a rare heart condition.
The former IRA leader turned peacemaker worked at the heart of the power-sharing government following the 1998 Good Friday Agreement.
He became deputy first minister in 2007, standing alongside Democratic Unionist Party leaders Ian Paisley, Peter Robinson and Arlene Foster.
Mr McGuinness stood down from his post in January in protest against the DUP's handling of an energy scandal, in a move that triggered a snap election.
Sinn Féin President Gerry Adams said: "Throughout his life Martin showed great determination, dignity and humility and it was no different during his short illness.
"He was a passionate republican who worked tirelessly for peace and reconciliation and for the re-unification of his country. But above all he loved his family and the people of Derry and he was immensely proud of both."
Northern Ireland's former first minister Arlene Foster expressed her "sincere condolences" at his death.
"Today's news will come as a shock to many people," she said.
"First and foremost, Martin McGuinness was a much loved husband, father and grandfather. My thoughts and prayers are with his wife and the family circle at this very painful time of grief and loss."
'Historic contribution'
Prime Minister Theresa May said although she could never "condone the path he took in the earlier part of his life, Martin McGuinness ultimately played a defining role in leading the republican movement away from violence".
"In doing so, he made an essential and historic contribution to the extraordinary journey of Northern Ireland from conflict to peace," she added.
Northern Ireland Secretary of State, James Brokenshire, said Mr McGuinness' "personal journey and the clear influence he had on others in the republican movement were instrumental in shaping political institutions in Northern Ireland founded on exclusively peaceful and democratic means".
Taoiseach (Irish prime minister) Enda Kenny said his passing represented a "significant loss, not only to politics in Northern Ireland, but to the wider political landscape on this island and beyond".
Colin Parry, whose 12-year-old son, Tim, died in an IRA bomb in Warrington in 1993, said although he did not forgive the IRA or Martin McGuinness, he found him a man who was "sincere in his desire for peace".
Martin McGuinness grew up in Derry's Bogside, radicalised, he said, by discrimination and murder on the streets of his city.
In 1972, at the age of 21, he was second-in-command of the IRA in Derry at the time of Bloody Sunday, when 14 civil rights protesters were killed in the city by soldiers.
He had a leading role in the IRA during a time when the paramilitary organisation was bombing his home city.
BBC News NI's Political Editor Mark Devenport
It appears that Martin McGuinness died at about midnight in Altnagelvin Hospital with his family gathered around his bedside.
We know he had been being treated for a serious illness in hospital for several weeks.
When he gave his final interviews recently he told me that he believed this was a battle that he could win.
Certainly, it has progressed more quickly than both Martin McGuinness and his family would have feared and he has now passed away.
He was convicted by the Republic of Ireland's Special Criminal Court after being arrested near a car containing explosives and ammunition. He served two prison sentences – he was also convicted of IRA membership.
But his leadership potential was spotted early and he was just 22 when he and Gerry Adams were flown to London for secret talks with the British government: MI5 considered him serious officer material with strategic vision.
He claimed he made the transition to politics when he left the IRA in 1974 but security experts believe he was still a leader during some of the organisation's most notorious attacks in the mid 1980s.
The years that followed saw the IRA hunger strikes, the Brighton bombing when Margaret Thatcher and the Tory Party conference were targeted and the Enniskillen bomb in 1987, in which 11 people died.
The shift to politics came slowly. Martin McGuinness was chief negotiator in the blossoming peace process and took on the post of education minister.
By 2007, he was Northern Ireland's deputy first minister standing alongside First Minister Ian Paisley. The two forged an unlikely alliance – but they were working together for the same goal.
He worked along DUP first minister Peter Robinson and, until January, was in office with Arlene Foster.
Among the seismic moments in his time in government was the famous handshake with Queen Elizabeth II and a toast to her Majesty at Windsor Castle.
In recent years, he said: "My war is over. My job as a political leader is to prevent that war and I feel very passionate about it."
---
What is your reaction to the news? Get in touch by emailing haveyoursay@bbc.co.uk
And share your pictures and video with us at yourpics@bbc.co.uk
You can also contact us in the following ways:
Tweet: @BBC_HaveYourSay
WhatsApp: +447555 173285
Text an SMS or MMS to 61124 (UK) or +44 7624 800 100 (international)
Martin McGuinness, Sinn Féin, dies aged 66}