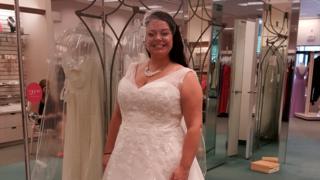 A US woman from North Carolina has launched an online appeal after her husband accidentally donated her wedding dress to charity.
Natalie Gelbert's husband was dropping donation bags off at Goodwill – but her wedding dress was also in their car to get dry cleaned.
She is now trying to track it down after the dress was reportedly sold on Saturday for $25 (£20).
Mrs Gelbert's Facebook appeal has been shared over 19,000 times online.
The couple say they are still paying in instalments for the dress from their wedding 18 months ago.
They hope to buy it back and described the dress as "very sentimental and something that can't be replaced."
"I know to whoever bought it, it was a great deal and sold dirt cheap but to me it is priceless," she said.
Man mistakenly donates wife's 'priceless' wedding dress