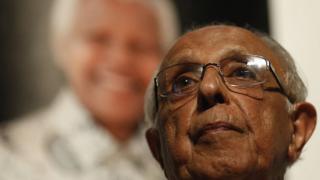 Veteran South African anti-apartheid activist Ahmed Kathrada has died aged 87, his foundation says.
It says Mr Kathrada passed away peacefully in a Johannesburg hospital "after a short period of illness, following surgery to the brain".
Along with Nelson Mandela, Mr Kathrada was among eight African National Congress activists sentenced to life imprisonment in 1964.
They were convicted of trying to topple the white minority government.
Apartheid was a legalised system of discrimination against non-white people introduced in South Africa in 1948.
But laws that discriminated against non-whites existed prior to that.
Mr Kathrada, affectionately known as Kathy, spent more than 26 years in prison, 18 of which were on the notorious Robben Island, where Mr Mandela was also jailed.
He was not only one of Mr Mandela's closest friends, but also a human rights activist in his own right who had a long history in the struggle against discrimination and apartheid, says the BBC's Milton Nkosi in Johannesburg.
---
Ahmed Kathrada – Life in the struggle
Born in 1929, the fourth of six children
Joined the Young Communist League aged 12
At 17, part of protests against a discriminatory law
Received suspended sentence in 1952 for organising anti-apartheid defiance campaign
Arrested in 1963 for being part of armed struggle and put on trial alongside Nelson Mandela
Released from prison in 1989
Joined the government as President Mandela's adviser in 1994
---
He joined the Young Communist League at the age of 12 and later became a member of the Transvaal Indian Congress.
He was released from prison in 1989, and after South Africa's first democratic elections in 1994, President Mandela persuaded Mr Kathrada to join him in government as his political adviser.
Mr Kathrada left parliament in 1999, but remained active in politics, criticising the recent direction of the ANC and calling on President Jacob Zuma to resign.
Kathrada: South Africa's anti-apartheid veteran dies aged 87