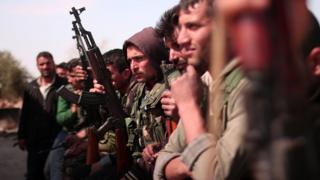 US-led coalition aircraft have for the first time carried out an airlift of allied fighters battling the jihadist group Islamic State (IS) in Syria.
The Pentagon said members of the Syrian Democratic Forces (SDF) alliance were dropped behind IS lines close to the Tabqa dam, west of the city of Raqqa.
Fierce fighting was continuing around the dam, thought to be a base for hundreds of foreign fighters, it added.
The development came as coalition member states met in Washington.
Secretary of State Rex Tillerson told the gathering that it was "only a matter of time" until IS leader Abu Bakr al-Baghdadi was killed.
The Pentagon declined to say how many US aircraft had been used to airlift Arab members of the Kurdish-led SDF close to the Tabqa dam, on the River Euphrates some 45km (28 miles) west of Raqqa, a key stronghold of IS.
The assault, conducted during darkness early on Wednesday, took IS militants based there by surprise, it said.
Aside from being strategically important and providing electricity to the region, the dam is believed to be used by IS foreign fighters to plot attacks outside Syria, according to the Pentagon.
There is also a town, a military airfield and a prison holding IS hostages nearby.
Coalition spokesman Col Joseph Scrocca said all aircraft had returned safely and that troops had not come under fire during the operation.
Apache helicopters also provided close air support, and a marine artillery unit sent to Syria earlier this month targeted IS positions, he added.
The SDF said in a statement that its fighters had seized four villages south of the Euphrates and cut a nearby highway linking Raqqa with the second city of Aleppo.
---
Plans to do more: BBC defence correspondent Jonathan Marcus
The use of a US-provided airlift and fire support to facilitate an operation by its Syrian allies marks a small but significant stepping up of Washington's military role on the ground in Syria.
So far President Trump has sought to reinforce the previous administration's approach on Syria – putting in artillery and more troops on the ground and expanding what US forces can actually do.
US advisers, for example, are now much closer to the frontline and better able to help co-ordinate operations. It's still not clear what the full extent of US involvement in the Tabqa dam assault may be.
But news of the mission comes on the day that the Trump administration is setting out its approach to countering and destroying IS – the clear implication being that Mr Trump plans to do more.
---
The anti-IS activist group, Raqqa is Being Slaughtered Silently, confirmed that the highway had been severed and said artillery was targeting the dam.
It also said 27 people had been killed and 40 wounded in a coalition air strike on a bakery in the Second District of the town of Tabqa.
It was not immediately clear when the incident occurred, as RBSS reported overnight that a bakery in Tabqa had been destroyed in a raid on Monday.
Meanwhile, Mr Tillerson told the first summit of the full 68-nation coalition since December 2014 that the US was "ready to grow stronger and stay aggressive in this battle" against so-called Islamic State.
It was the "policy of the US to demolish and destroy this barbaric terrorist organisation", he said.
The coalition should be encouraged by the progress it was making, he added, noting that the flow of foreign fighters into Syria and Iraq was down by 90% over the past year.
---
Read more
Inside 'Islamic State': A Raqqa diary
Islamic State group: The full story
---
Mr Tillerson said that "nearly all" of the deputies of IS leader Abu Bakr al-Baghdadi were now dead.
"It is only a matter of time before Baghdadi himself meets this same fate."
He admitted that "a more defined course of action in Syria is still coming together" but he spoke of working to "establish interim zones of stability, through ceasefires, to allow refugees to return home".
The BBC's Barbara Plett Usher, in Washington, says the secretary of state did not specify whether that would mean safe zones protected by coalition forces.
Mr Tillerson also told the summit: "The United States will do its part, but the circumstances on the ground require more from all of you. I ask each country to examine how it can best support these vital stabilisation efforts."
IS conflict: US airlift backs new assault near Raqqa stronghold}