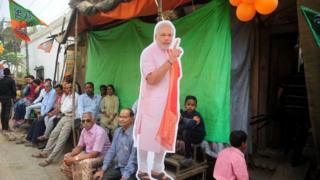 India will announce results of five state elections on Saturday, which many are seeing as a referendum on Prime Minister Narendra Modi.
The main focus will be on Uttar Pradesh, the country's most populous and politically significant state.
Mr Modi's BJP ran a strong campaign there against two powerful regional parties – the ruling Samajwadi Party (SP) and Bahujan Samaj party (BSP)
Exit polls say the BJP will win, but these have been proven wrong before.
Mr Modi has been central to his party's election strategy, and aggressively campaigned on a promise to bring growth and modernisation, and to root out corruption.
These are strong promises in an impoverished state where caste, family and religious affiliations are deeply entrenched.
But his bold nationalism and pro-Hindu politics do not appeal to everyone, and his controversial policy to ban high-value notes in a bid to curb corruption caused particular hardship here.
The current chief minister, Akhilesh Yadav, told BBC Hindi on Thursday that "secular forces" needed to unite to keep out the BJP – a comment widely being seen as an overture to his bitter rival, Dalit icon and four-time chief minister Mayawati.
Many analysts say that she could well be the surprise factor this election.
Apart from Uttar Pradesh, results will be declared in the northern states of Punjab and Uttarakhand, the western state of Goa and the north eastern state of Manipur.
India state election results present test for Modi}