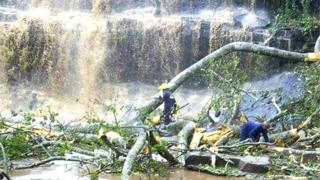 At least 18 people, mainly high school students, have died after a large tree fell on them at a popular waterfall spot in Kintampo, Ghana, police say.
The students were swimming during a storm when the freak accident happened, local police chief Owusu Boampong told the BBC.
Twenty-two others were injured and are being treated at local hospitals.
Rescue teams used chainsaws to cut through the fallen tree and free those trapped underneath, local media report.
President Nana Akufo-Addo has tweeted his condolences to the families of the victims.
Police and fire service personnel were involved in the rescue operation at the scene in Ghana's central Brong-Ahafo region, 400km (250 miles) north of the capital Accra.
An eyewitness told Ghana's Starr News that most of those involved were students of the Wenchi Senior High School, but that there were also tourists.
---
Top tourist destination: By Sammy Darko, Accra, Ghana
It was only two weeks ago that I was bathing in the same spot where the tree fell and crushed those students.
I saw dozens of students playing in the water at the base of the waterfall for hours until the sun went down.
Many of them were taking selfies and photos of each other.
The site at Kintampo is one of the country's top tourist destinations, drawing large numbers of local and foreign visitors.
It's especially busy at the weekend and most popular among students, who come from the five surrounding regions on school trips to the site, which is right in the centre of the country.
Hundreds visit every weekend to see the triple-step flow of the falls, which are surrounded by lush vegetation and large overhanging trees.
This area has been hit by tragedy before.
Almost exactly a year ago I was here after at least 60 people were killed in a horrific car accident, one minute down the road.
---
Ghana waterfall: Many dead in Kintampo freak tree accident