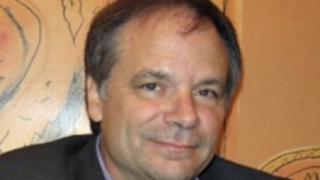 The former Colorado Republican party chairman, who once said only Democrats commit voter fraud, has appeared in court accused of the same offence.
Steven Curtis, 57, allegedly posted his ex-wife's absentee ballot for last year's presidential election after it had been sent to his house.
Mr Curtis, who served as party chairman from 1997-99, faces up to three years in jail if convicted.
His ex-wife, who left him after nine months, said she is furious.
The accused, a radio host, has railed against alleged voter fraud on his show, Wake Up With Steve Curtis.
He told listeners about five months ago: "It seems to be, and correct me if I'm wrong here, but virtually every case of voter fraud I can remember in my lifetime was committed by Democrats."
His ex-wife, Kelly Curtis, told KDVR-TV, a Fox affiliate: "I was livid over the whole situation, definitely."
She only discovered her ballot had been used when she called election authorities to inquire about how she can vote, considering that she was registered in Colorado but had just moved to South Carolina.
An election worker told her she had already voted.
"I was just completely stunned," said Mrs Curtis, who now lives in South Carolina.
"I thought there had to be some kind of mistake.
"For somebody that speaks out for the constitution and voters rights and our right as US citizens, it definitely goes against what he talks about on his shows and how he lives his life."
Ex-Colorado Republican chairman in court for voter fraud