Follow @Brexit for all the latest news, and sign up to our daily Brexit Bulletin newsletter.
The U.K. has made little headway in Germany with efforts to push Britain's case for a beneficial Brexit deal after Chancellor Angela Merkel's government refused to enter into informal contacts, according to officials on both sides with knowledge of the contacts.
As the period of so-called influence building draws to a close before official Brexit talks begin, the U.K. has been consistently rebuffed by the ruling party in Merkel's administration, the two officials said. The British have now shifted their focus to Merkel's Social Democratic coalition partner in an attempt to shape the substance of negotiations on leaving the European Union, one of the people said.
The brush-off in Berlin shows the struggle that remains for Prime Minister Theresa May to convince even some of her more sympathetic European counterparts to give Britain the best possible Brexit deal. That's unlikely to change even if she arrives at the negotiating table with a strengthened mandate from U.K. voters, Holger Schmieding, chief economist at Berenberg Bank, said in a Bloomberg Television interview on Thursday.
The U.K. "is in a very weak bargaining position anyway," Schmieding said. Victory for May's Conservatives in the June 8 election "gives her a strong hand in selling to the domestic audience in the U.K. whatever she wants to sell, but it does not give her any advantage in selling in Poland or in Romania or in France or Germany," he said. "Brexit will mostly be shaped by what the EU-27 is ready to offer, and Theresa May will just have to accept that."
EU government officials have already toughened up the draft guidelines for the coming negotiations after President Donald Tusk circulated an outline three weeks ago. Diplomats added harder language on issues including the safeguarding of citizens' rights and Britain's potential financial dues, according to a document obtained by Bloomberg News.
Call to Merkel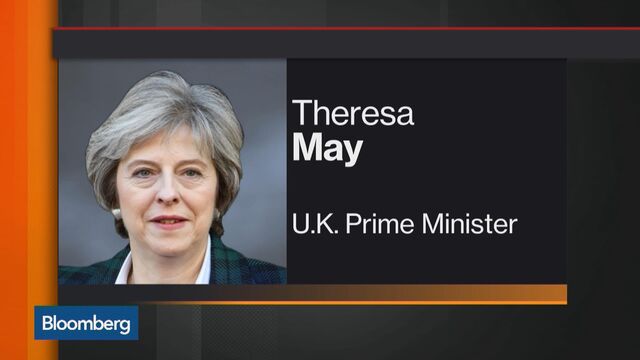 As Europe's biggest economy and dominant country, Germany's stance will be key to whatever future deal is agreed between the EU and the U.K. Merkel was one of five leaders May called on Tuesday to explain her decision to seek early elections.
In Berlin, while the U.K. has shifted its focus to the Social Democrats, it isn't bothering to approach Martin Schulz, the party leader and former European Parliament president who will run against Merkel in Germany's Sept. 24 election, according to one of the officials. Schulz is seen as even less open to the U.K.'s Brexit demands than Merkel and her party.
The Brexit Department in London said it would not be drawn on claims about U.K. government attempts to erngage informally with the German government. It added: "We go into these negotiations in a spirit of goodwill and seeking a constructive agreement."
While Brexit advocates such as Conservative lawmaker John Redwood argue that German carmakers and other industries will push for a favorable Brexit deal to maintain exports to the U.K., Merkel's economy minister, Brigitte Zypries, said in an interview this month that Germany can weather Brexit.
EU-27 Unity
Merkel has meanwhile made clear that she will prioritize unity among the EU-27 over granting favorable terms to the U.K. She's backed up by German public opinion: 88 percent of respondents in a poll this month said they wanted no great compromises made to Britain in the Brexit talks. A further 76 percent said they didn't expect any significant damage to the economy as a result of the U.K. quitting the EU.
May's move to call a snap election was broadly welcomed across the EU as officials suggested a larger majority would enable the prime minister to follow a more realistic path when negotiating a transition deal and the U.K.'s future relationship with the bloc. With a subsequent election not required until 2022, May gets more time to reach an agreement.
"I see this as an opportunity to take the pressure out of the negotiations," said Detlef Seif, a lawmaker from Merkel's party with responsibility for U.K. issues.
Yet for Norbert Roettgen, a member of Merkel's Christian Democratic Union who chairs the German parliament's foreign-affairs committee, calling a snap election is another example of using Brexit "for party-political ends" that panders to the "hardliners" in May's Conservatives.
"In the short term it means a standstill for the Brexit negotiations with the EU," he said.
Brexit Rebuff in Berlin Shows Europeans Unfazed by U.K. Election – Bloomberg