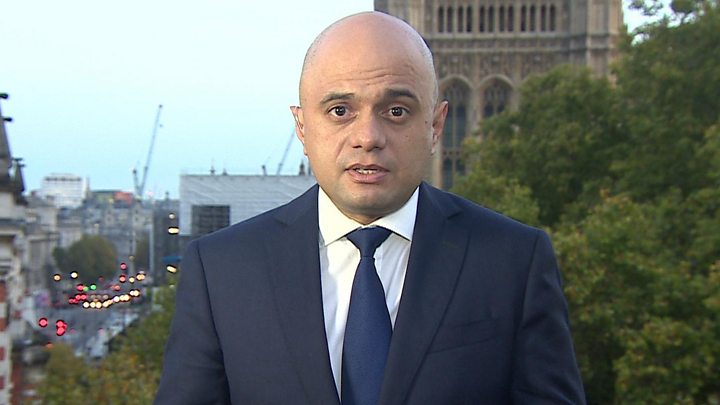 EU ambassadors have agreed to delay Brexit, but will not make a decision on a new deadline date until next week.
The European Commission said work on this would "continue in the coming days".
The talks came after Chancellor Sajid Javid admitted the government's deadline to deliver Brexit next Thursday "can't be met".
Boris Johnson said he was waiting for the EU to decide "what they want to do".
MPs are expected on Monday to consider the prime minister's call for an early general election.
Mr Johnson says he wants to hold one on 12 December, if the EU offers a Brexit delay until 31 January.
But the chances of enough MPs backing the motion – which requires the support of two-thirds of the House of Commons – appear uncertain, with Labour not committing to how it plans to vote.
Leader Jeremy Corbyn said he was only prepared to agree to an election once the PM had completely ruled out "to my satisfaction" the possibility of a no-deal Brexit .
"My position is we've got to get no-deal taken off the table first," he told ITV's This Morning programme.
"Providing the prime minister comes to Parliament on Monday and makes it absolutely clear he is going to make sure that there is no crash out – because his deal includes the possibility of a no-deal exit… if he comes on Monday and says that, then OK," he added.
Mr Johnson has said his "preferred option" is a short Brexit postponement to "say to 15 or 30 November".
Following the Brussels meeting, he again urged Mr Corbyn to vote for a snap poll, calling on him to "man up" and agree to his election proposal.
"Nobody will believe that the Labour Party is really going to allow Brexit to happen unless there is a deadline of an election on 12 December," he said.
On Thursday, the government had appeared to threaten a halt to all but essential Commons business if Parliament refused to vote for an election.
However, on Friday a Downing Street spokesperson said that this would only apply to Brexit legislation, and that otherwise the prime minister would continue pursuing his "dynamic and ambitious" domestic agenda "with full vigour" even if MPs do not vote for an election.
'Everything possible'
European Commission spokeswoman Mina Andreeva said: "What I can tell you is that the EU 27 have agreed to the principle of an extension and work will now continue in the coming days."
She added that they intended to take a decision without holding an emergency summit.
BBC Brussels correspondent Adam Fleming said a decision on the length of the extension was expected on Monday, but that the announcement could be delayed until Tuesday if the ambassadors struggled to agree a date.
He said there is pressure to avoid a last-minute summit on 30 October, in which leaders would have to prevent the UK leaving without a deal the next day.
Earlier, Mr Javid told BBC Breakfast the government had to "accept we won't be able to leave on 31 October".
He added that ministers "had done everything possible" to leave the EU by the end of the month, but "everyone expects an extension".
Mr Johnson was compelled by a law passed by MPs – known as the Benn Act – to send a letter to the bloc requesting a delay until 31 January 2020.
Before sending the letter on Saturday, he had repeatedly promised the UK would leave the EU on Halloween.
Where parties stand on election
Conservatives – Boris Johnson has requested an election twice already – but not all of his MPs are on board with the idea, arguing that the focus should be on delivering Brexit first
Labour – Has insisted it wants an election but won't vote for one until a no-deal Brexit has been firmly taken off the table. Some of its MPs from Leave voting areas may take a different view
SNP – The party's leader at Westminster, Ian Blackford, said "we want an election but these terms are not acceptable," adding that the poll should take place earlier than the middle of December
Lib Dems – Would prefer another referendum but have said they would vote for an election if there was a long enough extension. Leader Jo Swinson said she wanted to see what the EU said on Friday before deciding
DUP – Sammy Wilson, the party's Brexit spokesman, has indicated that the unionists could support an election in a bid to secure better terms with the EU
Independent Group for Change – Leader Anna Soubry said an election "wouldn't solve anything" and called again for another referendum
Plaid Cymru – The party's four MPs are likely to vote against an election, with the party arguing for another referendum instead
Green Party – The party's sole MP, Caroline Lucas, looks set to vote against an election, saying in a tweet the UK could still "crash out" with no-deal if MPs can't amend the Withdrawal Agreement
---
Do you have any questions about the latest Brexit developments?
In some cases your question will be published, displaying your name and location as you provide it, unless you state otherwise. Your contact details will never be published. Please ensure you have read the terms and conditions.
Use this form to ask your question:
If you are reading this page and can't see the form you will need to visit the mobile version of the BBC website to submit your question.
Brexit: EU agrees to Brexit delay, but no date yet}