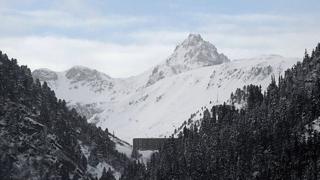 An avalanche at the French ski resort of Valfrejus has killed a Dutch tourist, while two others remain missing, according to local police.
The authorities are still looking for the missing, who are also Dutch, after finding the snowboarder's body on an off-piste section.
The avalanche struck on Tuesday.
The Alpine resort is in south-east France, near the Italian border. The three men are reported as aged between 20 and 25.
A friend of the snowboarders had received a phone message from one of the group saying they were lost, Dutch media reported.
The search party was sent out on Tuesday evening, but at around midnight, it was interrupted, owing to poor visibility, and restarted in the morning, according to Dutch news site De Telegraaf.
On Tuesday, an avalanche also struck the French resort of Tignes, but all those on the slopes were reported safe after initial reports said several were buried.
Four snowboarders were killed during another avalanche in Tignes in February,
In January 2016, five French Foreign Legionnaires were killed on a training exercise in an avalanche near Valfrejus.
Valfrejus avalanche: One dead and two missing in France