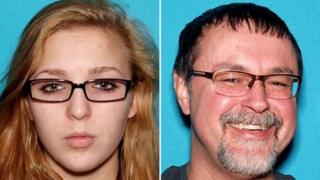 A Tennessee teacher accused of abducting his 15-year-old student has been captured thousands of miles away.
Tad Cummins was arrested in northern California, the Tennessee Bureau of Investigations announced.
The pair, missing for a month, were found near the remote Shasta-Trinity National Forest, the Tennessean newspaper reported.
Mr Cummins had been seeking work in the area, according to the owner of the property where his car was discovered.
The 50-year-old had been Elizabeth's teacher at Culleoka Unit School in Maury County, Tennessee.
Tennessee officials said that he "may have been abusing his role as a teacher to groom this vulnerable young girl for some time in an effort to lure and potentially sexually exploit her".
The two disappeared on 13 March, weeks after a student reported seeing them kissing inside a classroom.
Shortly afterwards, they were spotted on surveillance cameras at a Walmart in Oklahoma City, but they had not been seen since.
Authorities say that before disappearing, Mr Cummins had carried out online research on "teen marriage".
He also purchased hair dye, took out a $4,500 (£3,600) personal loan, and researched if his Nissan Rogue vehicle could be tracked, officials say.
According to a legal petition filed in court by the girl's family earlier this month, Mr Cummins is a "masterfully manipulating predator" who forced Elizabeth to go out with him by threatening her with repercussions at school.
According to the court papers, Mr Cummins would visit the girl at home to pick her up for meals, as well as come to the fast food restaurant where she worked.
"The child had told various siblings and/or friends that she was scared of Cummins and felt in over her head," the documents show.
US fugitive teacher found with student after month on run