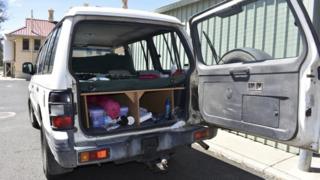 A UK backpacker allegedly held captive and repeatedly raped in Australia is being comforted by family members, police have said.
The 22-year-old woman, originally from Liverpool, has been released from hospital, Queensland Police confirmed.
Her Australian ex-boyfriend, 22, is facing 23 charges over the alleged ordeal that ended on Sunday.
Police on Wednesday said the attacks took place over a one-month period, not two months as alleged earlier.
They say the assaults happened between 3 February and 5 March on a road trip stretching across the Queensland outback.
Officers said it ended when police stopped the pair's 4×4 at Mitchell, in south Queensland, after a service station owner said they failed to pay for petrol.
In a brief statement on Wednesday, police said the woman had been released from hospital into the care of friends and family.
The accused man, from Cairns, is facing charges including four counts of rape, eight counts of assault and four counts of strangulation.
The suspect has also been charged with two counts of deprivation of liberty, causing wilful damage, possessing drugs and drug equipment, and obstructing police.
The man was refused bail on Monday and will go before the courts again on 23 May.
UK tourist in Australia 'rape ordeal' released from hospital}