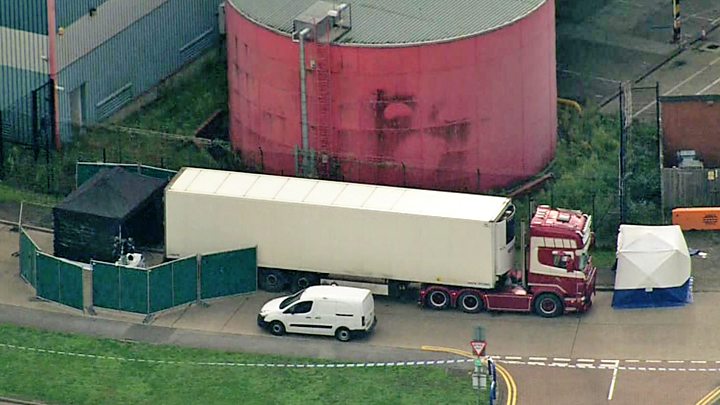 The bodies of 39 people were found in a lorry trailer in Essex in eastern England on 23 October.
Three people, including the driver, have been arrested and a murder investigation has been launched.
Essex Police said they were working "to piece together the circumstances of this horrific event" – the largest murder investigation in the force's history.
Here's what we know so far about the discovery.
Who were the victims?
Initially, Essex police said in a statement they believed all 39 victims – eight women and 31 men – to be Chinese nationals.
All were thought to be adults except one "young adult" woman, who police previously said may have been a teenager.
However, the BBC now understands at least three of those on board may have been from Vietnam.
Pham Tra My, 26, sent a message to family on Tuesday night saying she was suffocating and has not been heard from since. "I am really, really sorry, Mum and Dad, my trip to a foreign land has failed," the text read. "I am dying, I can't breathe. I love you very much Mum and Dad. I am sorry, Mother."
Her brother has appealed to authorities through the BBC to confirm if she is among the dead, and the BBC has passed on her details to Essex police.
Her family say they paid £30,000 to people smugglers. Her last known location was Belgium.
Families of two other Vietnamese – a 26-year-old man and 19-year-old woman – have also said they have not heard from their relatives.
The police said they had received the first reports about bodies found in a lorry at the Waterglade Industrial Park in Grays just before 01:40 local time (00:40 GMT) on Wednesday. The town is about 15km (nine miles) east of London.
The bodies were discovered by ambulance staff.
Police began the process of moving the bodies on Thursday. Eleven victims were taken by private ambulance from the Port of Tilbury to Broomfield Hospital in Chelmsford.
All of the dead will undergo a coroner's examination to establish the cause of death.
Police will then attempt to identify each individual, but have warned this will be a "substantial operation" and they cannot estimate how long it will take.
Who has been arrested?
Essex police announced on Friday they had arrested a man and a woman, both aged 38, from Warrington on suspicion of conspiracy to traffic people and 39 counts of manslaughter.
This followed the arrest of the lorry driver on Wednesday, on suspicion of murder. He was named locally as Mo Robinson, 25, from the Portadown area of County Armagh, Northern Ireland.
He remains in custody after police were granted an extra 24 hours to question him on Thursday.
Three properties in Northern Ireland have been raided and the National Crime Agency (NCA) is working to establish if "organised crime groups" were involved.
What has Chinese reaction been so far?
Liu Xiaoming, the Chinese ambassador to the UK, tweeted on Thursday that officials had read the news with a "heavy heart" and sent a team to Essex to meet police.
But he cautioned that the nationalities of the dead had still not been confirmed.
On Friday, the Chinese Foreign Ministry said it hoped British authorities could quickly find out what had happened and "severely punish criminals involved in the case".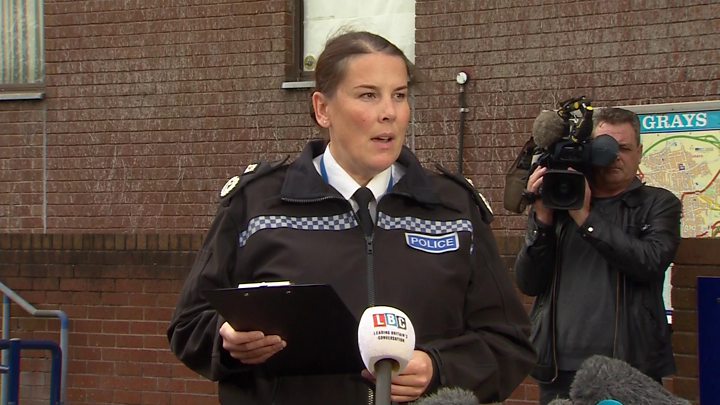 The overriding reaction on Chinese social media is one of shock.
On Thursday, more than 100,000 users of the popular Sina Weibo microblog used the hashtag #39BodiesInBritishTruckWereChineseNationals.
Users pointed out that no similar incident involving Chinese nationals had occurred in many years and that there had been no reports of a large group of Chinese citizens being unaccounted for.
In June 2000, the bodies of 58 Chinese people were found suffocated to death in a lorry at the English port of Dover. There were two survivors.
What about the lorry and the trailer?
GPS data shows the refrigerated container trailer crossed back and forth between the UK and Europe in the days before it was found.
It was leased from the company Global Trailer Rentals on 15 October. The company said it was "entirely unaware that the trailer was to be used in the manner in which it appears to have been".
Sources say the GPS data shows it left Monaghan in the Republic of Ireland on 15 October before crossing over to Northern Ireland and then returning south to Dublin
From Dublin, it crossed over to Holyhead in Wales overnight on 16 October
That evening, it travelled to continental Europe from Dover to Calais in France
Between 17 and 22 October, it moved between various cities in Belgium and France, including Dunkirk, Bruges and Lille
On 22 October, it made its final crossing from Zeebrugge to Purfleet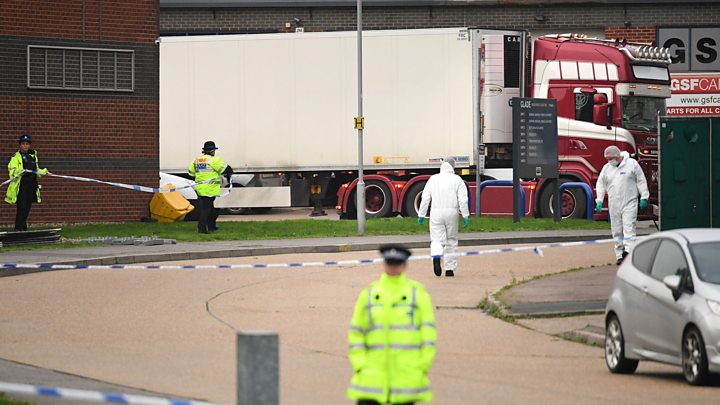 Essex Police said the tractor unit (the front part of the lorry) had entered the UK via Holyhead – an Irish Sea port in Wales – on Sunday 20 October, having travelled over from Dublin.
Police believe the tractor unit collected the trailer in Purfleet on the River Thames and left the port shortly after 01:05 on Thursday. Police were called to the industrial park where the bodies were discovered about half an hour later.
Temperatures in refrigerated units can be as low as -25C (-13F). The lorry now is at a secure site in Essex.
Early reports had suggested the lorry may have arrived from Bulgaria but its government has since clarified that while the tractor unit was registered there in 2017 it had not entered the country since.
How many migrants have died in transit in the UK?
The number of migrants who die in transit has been recorded by the UN since 2014.
Since then, five bodies of suspected migrants have been found in lorries or containers in the UK:
Data was not collected in the same way before the European migrant crisis began in 2014, but such deaths are not new.
UK lorry deaths: What we know}