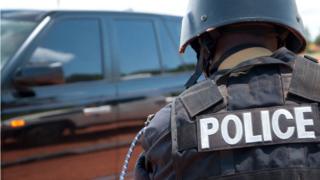 Ugandan police have launched a manhunt for four Flying Squad officers accused of shooting dead a three-year-old girl.
They allegedly wounded the girl's mother and a man at a village in the central Mityana district on Monday.
The four officers were not on "official assignment" and the motive behind the shooting is unclear.
Police described the incident as "highly regrettable" and said they would pay for the treatment of the wounded.
"The Uganda Police Force has received reports that persons suspected to be officers of the Flying Squad allegedly shot dead three-year-old Viola Nakuwuka and injured her mother," a police statement said.
It described the incident as murder that "will be treated with serious action".
The men are reported to be on the run and the police have issued an all-points alert for the officers.
Uganda manhunt for police who shot dead girl of three