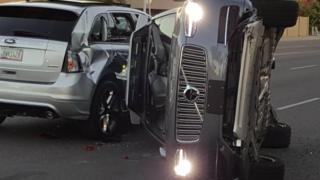 Uber has pulled its self-driving cars from the roads after an accident which left one of the vehicles on its side.
Pictures posted online showed the car on its right side on an Arizona street, next to another badly damaged vehicle.
The car – a Volvo SUV – was in self-driving mode at the time of the crash, on Friday, Uber said. No one was hurt.
A spokeswoman for the police in Tempe, Arizona said the accident occurred when another vehicle "failed to yield" to the Uber car at a left turn.
"There was a person behind the wheel. It is uncertain at this time if they were controlling the vehicle at the time of the collision," spokeswoman Josie Montenegro said.
Uber's self-driving cars always have a human in the driving seat who can take over the controls.
The company pulled its self-driving vehicles off the road in Arizona at first, followed by test sites in Pennsylvania and California – all three states where it operated the vehicles.
The incident follows a tumultuous few weeks for the car-hailing app service, after several negative stories about workplace practices and ethics.
A number of executives have quit in recent weeks, including the president, Jeff Jones.
Uber suspends self-driving cars after Arizona crash