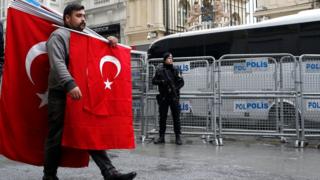 Turkey is "completely detached from reality" in calling the Dutch fascists, European Council President Donald Tusk has said.
His remarks come amid a row between Turkey and European nations over campaigning for a Turkish referendum.
Turkish President Recep Tayyip Erdogan has accused the Dutch government of being "Nazi remnants".
He was infuriated when a minister was barred from addressing a Rotterdam rally, sparking clashes with police.
Mr Erdogan's rhetoric intensified when he accused the Dutch of carrying out the Srebrenica massacre in Bosnia in 1995. The killings of Muslim men and boys was carried out by Bosnian Serb forces and the remarks were condemned by the Dutch prime minister as a "vile falsification".
In his remarks to the European Parliament on Wednesday Mr Tusk said the Netherlands was "a place of freedom and democracy. And for sure Rotterdam," he said.
"The city of Erasmus, brutally destroyed by the Nazis, which today has a mayor born in Morocco," he added.
"If anyone sees fascism in Rotterdam, they are completely detached from reality."
Germany and Austria have also acted to stop Turkish rallies aimed at stirring support for a "yes" vote in a 16 April referendum on giving President Erdogan greater powers.
More on this story:
Mr Tusk's remarks were applauded by MEPs.
European Commission chief Jean-Claude Juncker said he was "scandalised" by President Erdogan's remarks, which he said "drives Turkey further away from the European Union".
Last year, the European Parliament called for a suspension of Turkey's EU membership talks, and those calls seem set to grow louder, says the BBC's Mark Lowen in Istanbul.
Germany – accused last week by Mr Erdogan of "Nazi practices" – has now raised the prospect of a complete entry ban on Turkish politicians.
Peter Altmaier, chief of staff for Chancellor Angela Merkel, said such a ban would be permitted under international law but would be a "last resort. But we reserve the right to do that".
The small western German state of Saarland moved on Tuesday to ban all foreign politicians from campaigning in the state.
Turks 'detached from reality' – EU's Donald Tusk