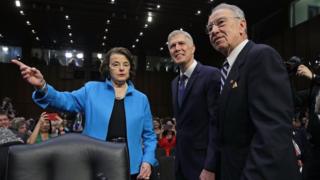 The Senate confirmation hearing of President Donald Trump's nominee for the US Supreme Court, Neil Gorsuch, is now under way.
If approved, the Colorado appeals court judge would fill a vacancy left by Justice Antonin Scalia 13 months ago.
Senate Judiciary Committee Democrats immediately highlighted abortion and employee rights as key issues.
The Democrats also repeated anger at Republicans for refusing to consider Barack Obama's Supreme Court nominee.
But it is unclear whether they will try to block Mr Gorsuch's confirmation.
The hearing began with addresses from the chairman, Republican Chuck Grassley, and ranking Democrat Dianne Feinstein.
Mr Grassley hailed Mr Gorsuch's "exceptional record", saying he had shown unfailing commitment to "the preservation of our constitutional order and the separation of powers".
But Ms Feinstein began by citing the Republicans' block on Mr Obama's nomination of federal appeals court judge Merrick Garland to replace Judge Scalia.
She said she was "deeply disappointed that it is under these circumstances that we begin this hearing".
Senate Republicans, including Lindsey Graham, pointed to a quote by then Judiciary Committee chairman, the Democrat Joe Biden, in 1992 saying then President George HW Bush should not name a nominee to any Supreme Court post until after the upcoming election.
"I don't think any injustice has been done," Mr Graham said.
'Wise or kind'
One ruling by Neil Gorsuch that the Democrats seized on was the case of lorry driver Alphonse Maddin.
He was told to stay in his freezing vehicle for hours after it broke down. After he disobeyed the order he was fired. Judge Gorsuch gave a dissenting ruling on a three-judge panel, writing it was not up to judges to answer whether the employer's decision was "wise or kind".
Republican Senator John Cornyn praised Mr Gorsuch for following the law "where it leads, that's how the rule of law works", whether that meant rulings for employees or employers, or whether they were pro- or anti-government.
He said there was a "broad spectrum of people supporting your nomination".
The nominee will later make his opening statement before the committee, in a hearing that could span four days.
---
How does the process work?
Monday: Each of the 20 committee members reads a 10-minute statement and Mr Gorsuch will have his own of the same duration
Tuesday-Wednesday: Mr Gorsuch to be questioned on a range of political and legal issues. They could include his stance on President Trump's travel ban
Thursday: Outside witnesses testify for or against the nomination
Committee vote: Members report the nomination to the full Senate, favourably, unfavourably or without recommendation
Senate procedural vote: Republicans have a 52-48 majority in the Senate but Democrats can push to raise the required threshold to 60 votes. If they do, Republicans can use the so-called "nuclear option" to change the rules to allow a lower vote threshold
Senate full vote: Will be a simple majority, if the above procedural hurdles are overcome
---
If Mr Gorsuch, 49, is approved by the Senate he would restore a 5-4 conservative majority on America's highest court.
Democrat Senator Sheldon Whitehouse said he feared Mr Gorsuch's appointment could lead to another "Republican 5-4 special interest spree".
But Lindsey Graham, although pointing out his well-known opposition to Donald Trump's election campaign, said the president should be praised for picking the "best choice available".
As a lifetime appointee, Judge Gorsuch would be one of nine justices who have the final legal word on many of the most sensitive US issues, from abortion to gender to gun control to workers' rights.
The nominee is also likely to be quizzed on whether he is sufficiently independent from President Trump, who has lambasted judges for ruling against his bid to restrict travel from certain Muslim-majority nations.
Mr Gorsuch, a judge on the Denver-based 10th US Circuit Court of Appeals, will also be pressed on his role as a Department of Justice lawyer under former President George W Bush from 2005-06.
During that period Mr Gorsuch helped defend the administration's expansive use of aggressive interrogation techniques.
His authorship of a 2006 book in which he argued against the legalisation of assisted suicide and euthanasia will also probably come under the microscope.
---
More on this story
---
The Democrats' options on opposing Mr Gorsuch are limited.
Republicans control the Senate and they can change the chamber's rules to make it easier to confirm Mr Gorsuch if any attempt is made to block him.
A full Senate vote is expected on 3 April.
Trump Supreme Court pick Neil Gorsuch faces Senate hearing