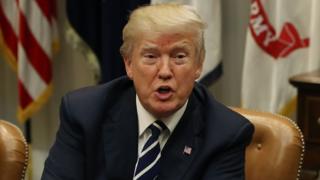 US President Donald Trump has denied using crude words attributed to him about Haiti, El Salvador and African countries.
Reports that he had called them "shithole countries" generated a backlash worldwide.
One UN official called the remarks racist and said they opened "the door to humanity's worst side".
But Mr Trump has tweeted that "this was not the language" he used in a meeting about immigration.
He wrote that the language he used was "tough, but this was not the language used".
Trump denies crude slur against migrant countries