The Phoenix Suns-Brooklyn Nets game on Thursday featured two of the NBA's three worst teams, but it was notable for the five players one of those teams trotted out for the opening tip.
The Suns' starting five in a 126-98 loss at Brooklyn was the youngest in NBA history with an average age of 21 years, 14 days, according to Elias Sports Bureau, eclipsing the previous record of 21 years, 143 days set by the Los Angeles Clippers on Nov. 15, 2010.
Unfortunately, a starting lineup of Tyler Ulis (21), Derrick Jones (20), Marquese Chriss (19), Devin Booker (20) and Alex Len (23) isn't exactly a recipe for success. Booker and Chriss were the only two regular Suns starters in the lineup as the team is going with younger players down the stretch. Jones, Len and Ulis have started only 33 games combined this season for a team that got blown out by the 15-win Nets.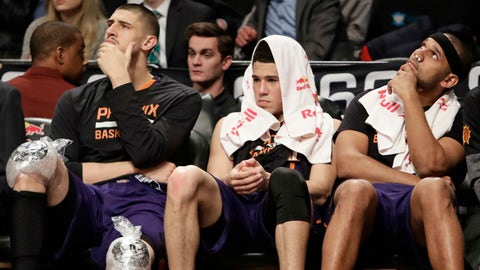 So just how young was this starting five? According to ESPN, seven of the eight teams playing in Thursday's NCAA Sweet 16 games had older starting lineups than the one the Suns put on the floor.
Be patient, Phoenix fans.
The Suns made NBA history with their Thursday starting lineup – FOXSports.com