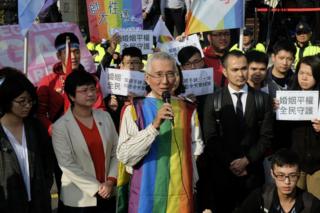 A panel of judges at Taiwan's top court has begun hearing a case that could make the island the first place in Asia to introduce gay marriage.
The case has been brought by a gay activist as well as municipal authorities from the capital, Taipei.
Taiwan's parliament has also been debating whether to pass laws that would allow same-sex marriage.
The movement has split society and prompted a conservative backlash, with vocal protests in recent months.
A panel of 14 justices are hearing arguments and will debate whether a line in Taiwan's civil code, which states that marriage is between a man and a woman, is unconstitutional.
Veteran gay activist Chi Chia-wei, whose attempt at registering marriage with his partner in 2013 was rejected, had petitioned for the case to be heard.
Taipei city authorities, who have been receiving requests for gay marriage, had also petitioned for clarity.
Legal experts and government officials are expected to take part in the debate, which is expected to last two months.
Gay rights campaigners carrying rainbow flags, have turned up in front of the court in Taipei, as have anti-gay marriage protesters.
In December Taiwan's parliament had approved the first draft of a bill to legalise gay marriage, with a second reading due in months.
President Tsai Ing-wen has previously said she would support marriage equality. Taiwan is known for its progressive values and energetic LGBTQ movement.
But rallies by gay rights activists in recent months have been met with protests from conservative groups and calls for the same-sex marriage bill to be struck down.
Taiwan court hears landmark gay marriage case}