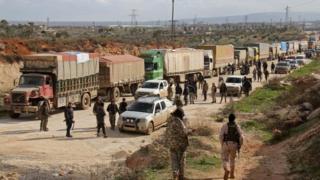 The Syrian government and rebel groups have reportedly reached a deal to allow the evacuation of four besieged areas.
The UK-based Syrian Observatory for Human Rights said residents of Foah and Kefraya, two government-held towns in the north-west, would be bussed out.
In return, people in two rebel-held towns near Damascus, Madaya and Zabadani, will be given safe passage.
The evacuation is scheduled to begin on Tuesday, but a local truce is said to have come into effect overnight.
Last month, the UN described the situation in the four towns as "catastrophic", with more than 64,000 civilians "trapped in a cycle of daily violence and deprivation".
Many people are reported to have died as a result of shortages of food or medicine.
Foah and Kefraya, most of whose residents are Shia Muslims, have been encircled by rebels and al-Qaeda-linked Sunni jihadists since March 2015.
Madaya and Zabadani, which are predominantly Sunni, have meanwhile been besieged since June 2015 by the Syrian army and fighters from Lebanon's Shia Islamist Hezbollah movement.
As part of what is known as the "Four Towns Agreement", the warring parties have allowed the UN and Red Cross to deliver aid on a few occasions in the past two years and to evacuate limited numbers of sick and injured people.
Aid convoys last reached the towns on 14 March. Several thousand civilians were also allowed to leave Foah and Kefraya in December as part of a deal that saw the evacuation of a besieged rebel enclave in eastern Aleppo.
UN humanitarian chief Stephen O'Brien told the Security Council on 22 February that the refusal to grant humanitarian organisations immediate and unconditional access to the towns meant residents were "trapped in a cycle of daily violence and deprivation, where malnutrition and lack of proper medical care continue".
He said five people had recently died in Madaya and Kefraya, while 80 others were in urgent need of medical evacuation to save their lives.
A pro-government source told Reuters news agency that the implementation of the evacuation deal was due to begin on Tuesday, with 16,000 people leaving Foah and Kefraya "in exchange for the evacuation of all the Zabadani militants and the militants of Madaya and their families".
Those evacuated from Foah and Kefraya will reportedly be transported to government-controlled areas of Damascus, while Madaya and Zabadani residents will be taken to rebel-held areas around the city of Idlib and the town of Jarablus.
Rami Abdul Rahman, the director of the Syrian Observatory, noted that the deal would result in a "demographic change on a sectarian basis".
"There is great discontent over the agreement in Madaya," he told Reuters.
A report by UN human rights experts published last month concluded that last September's evacuation of people from parts of Aleppo previously held by rebels amounted to the "war crime of forced displacement".
The Syrian Observatory said the agreement on the four towns would also see a truce take effect in areas south of Damascus, aid deliveries, and the release of 1,500 prisoners held by the government.
It added that the deal was drafted by Qatar – which backs the opposition to President Bashar al-Assad – following negotiations between representatives of Iran – an ally of the government – and an Islamist rebel alliance, Jaysh al-Fath.
Some 4.7 million people live in hard-to-reach and besieged areas in Syria, including 644,000 in UN-declared besieged locations.
Syria conflict: 'Deal reached' for four besieged towns}