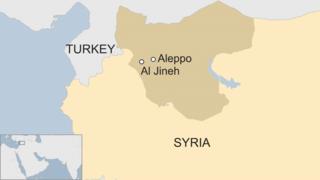 Forty-two people have been killed and many more injured in an air attack on a mosque in a rebel-held village in northern Syria, the Syrian Observatory for Human Rights says.
The raid is said to have taken place in al-Jineh, in Aleppo province.
The UK-based observatory, which relays information from sources on the ground in Syria, said the mosque was packed with worshippers for evening prayers.
The group said most of those killed were civilians.
The village lies in one of the main rebel-held regions of Syria.
It is not clear who exactly was behind the attack, but Russian and Syrian war planes fly in the region.
US aircraft also target jihadist rebels in the area.
Assad is secure, but Syria's war shows no sign of ending
The attack came only a day after at least 31 people were killed in a suicide bombing at the main court complex in the capital, Damascus.
The Damascus bombing was on the sixth anniversary of the start of the uprising against President Bashar al-Assad.
Since then, more than 320,000 people have been killed and 11 million displaced in the conflict, according to activists.
Syria 'air raid on mosque kills 42' in Aleppo province}