Chris Collins played the fool and then he tried to play the victim. Don't buy it.
The Northwestern coach, whose reaction to a horrible no-call against No. 1 Gonzaga earned a technical foul that altered the trajectory of their entire NCAA tournament game, seemed proudly defiant in his postgame press conference, refusing to accept any sort of blame for his team's loss and showing no outward signs of contrition for getting the tech that swung the game. He thinks he was right because the refs were wrong, as if it's a zero-sum game. Both sides can be wrong and both were. Collins' postgame actions were petty and juvenile, which isn't surprising coming from a coach whose petty, juvenile tantrum is why he was answering questions about himself on Saturday night and not his team moving on to San Jose.
Don't get me wrong: The missed call on the basket interference was huge. It was one of those unfortunate, unforgivable but ultimately unavoidable March moments. (For as bad as it was, the game doesn't need replay – sure, it would have been nice to have it in this specific circumstance but see how much you'll like reviews for random goaltending and basket interference calls that don't play a huge role in an NCAA tournament game.)
Collins is right about this. Here's what he told reporters after the game:
"You guys saw it. I mean, it would have been a three-point game. We had all the momentum. The guy puts his hand through the rim. It's a very easy call, in my opinion. But it's an honest mistake. Referees are human beings. They're here for a reason, because they're outstanding officials. They made the calls, we have to live with them. In my heart, do I think if we get that call and cut it to three, we have a great chance to win? Yes, I believe we had a great chance to win if the correct call was made."
All of that's true but it leads to an incorrect implication. Collins speaks as if the game was a lost cause following the missed basket interference, that the "momentum" would have stopped with the block that wasn't. And yes, it "would have been a three-point game," but if the coach could have kept his head for an instant, and not gone into hysterics like he was Northwestern Kid's far younger brother, it still only would have been a five-point game, the game situation that seconds before had felt so advantageous for Northwestern.
Gonzaga still would have been in the midst of a freefall, with their seven previous offensive possessions having been: miss, miss, foul, turnover, miss, turnover, missed free throw and missed free throw. That was part of a 6-0 Northwestern run which was just a sliver of the 23-8 run that got the Wildcats back into the game. Down five with five minutes left and all on the momentum on your side while your opponent confronts fears over choking away its No. 1 seed during the chaos of collapse — that's not as good as being down three, but it's not bad.
Collins ensured Northwestern wasn't in that position though. Instead of being down those five points with Gonzaga still in the middle of its meltdown, the 'Cats were down seven because Collins acted the fool and watched Gonzaga hit its two technical free throws while catching its breath, relaxing a bit and resettling after the Northwestern onslaught.
The missed call was a game-changer. But the reaction to it was a game-ender. Northwestern had a reasonable chance to win down five. It would have even had a reasonable chance to win down seven had the Zags had a regular transition bucket after the missed call. But going down seven because of the self-inflicted technical? It was all too much to overcome. The Wildcats never regrouped and it was Collins' fault. Not that he sees it that way. He still thinks he was right.
"If I see a guy from another team put his hand through the rim and block a shot going through the basket, I'm going to react to it if the play isn't called. I'm a human being, too. I think all of you would."
No, you wouldn't! At home, maybe. In a bar, sure. From the headquarters of the Northwestern sports media fan club, absolutely. But when you're the coach of a basketball team in its first NCAA tournament and trying to pull off the biggest win in school history, you bite your tongue. You let your team know you're mad, you guilt trip the refs in hopes of getting a call to go your way on the next possession, you let it sting for a little but you leave it behind because, hey, you're still down five points with five minutes left in a game that you recently trailed by 20.
Collins, again, sees it differently. When told of the NCAA's statement that admitted refs missed the first call but got the coach's technical right, Collins said:
"I don't know what all that means. All I know is I'm flying home. But it's nice. Thank you for the statement. Appreciate it. It should have been a three-point game."
"The three-point game." The coach is blinded by the fact that it could have been a three-point game rather than the fact that it was a five-point game. And in doing so, he comes across like a smarmy, sarcastic, floor-slapping third-grader intent on getting in the last word in a fight with his brother. He can't square the idea that his actions were independent of the officials'. They blew it, so he blew up. Naturally. It's as if biting his lip and returning to the sideline wasn't an option.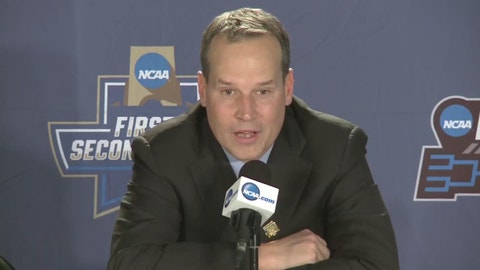 There's no acceptance of blame. Collins seems to be saying that running onto the court to scream in a ref's face is a proper way to handle a bad call. It's not. Every day, there are dozens of missed calls in games across the country and rarely do coaches feel the need to go Bobby Knight on them.
And don't say, as some on television and the internet have, that the importance of the situation warranted such a reaction. That's the most laughable assertion yet. The gravity of the moment is exactly why Collins had to keep a cool head. Maybe in November you can pull a stunt like that – taking a stand against refs in order to defend your team while, in the process, showing your guys you'll go to bat for them. It's the Norman Dale from Hoosiers move. In March, you just have to take the call and move on.
Chris Collins says he believes Northwestern would have had a great chance to win if the correct call was made, leaving his team down three points with five minutes left. It's true. But at some point, maybe today, maybe tomorrow, maybe when his Northwestern teams actually experience real NCAA success and not just hanging moral victories on almost-comebacks and opponents fouling in wrong situations, the coach will realize that Northwestern would have had a great chance to win even if the correct call wasn't made. That didn't happen because Chris Collins lost his cool. Then Northwestern lost the game.
Stop feeling sorry for Chris Collins and Northwestern – FOXSports.com