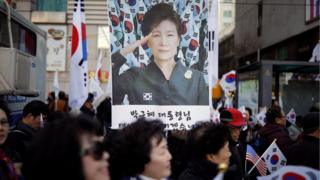 South Korea's impeached president, Park Geun-hye, is due to find out whether she will be permanently removed from office.
Court proceedings opened on Tuesday but were curtailed because she did not attend. The court later went ahead anyway.
Ms Park is embroiled in a political corruption scandal but maintains her innocence.
If she is dismissed, a presidential election will be held within 60 days.
South Korea's constitutional court will decide whether the impeached president should lose her seat in office or be reinstated in a hearing that is expected to last for about an hour.
She is accused of allowing a close friend to profit from her connections with the presidency.
---
Read more
---
Ms Park is still technically president, though she has been stripped of her powers while the court decides her fate. As long as she remains president, she is immune from prosecution.
The political scandal involving Ms Park and an old friend of hers, Choi Soon-sil, has rocked South Korea, sparking several huge protests in the country.
In a written statement on Monday, Ms Park said she was innocent of the charges but had "belated regret, that I should have been more cautious with my trust in her [Ms Choi]".
Ms Choi, whose trial began earlier this week, is accused of using her presidential connections to pressure companies for millions of dollars in donations to two non-profit foundations she controlled.
Ms Park is alleged to have been personally involved.
On 20 November, Ms Choi was charged with various offences, including abuse of authority, coercion, attempted coercion and attempted fraud, leading to the wider investigation.
Both cases centre on allegations that Ms Park gave Ms Choi unauthorised access to government decisions and allowed her to exploit their close relationship to solicit money from corporations for foundations from which she benefitted.
Both women have apologised but deny committing criminal offences.
South Korea scandal: President Park Geun-hye to discover fate}