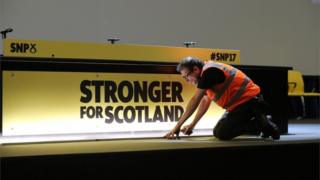 SNP Deputy Leader Angus Robertson will accuse the Conservatives of "running scared" of Scottish opinion.
Speaking at the SNP spring conference in Aberdeen later, Mr Robertson is to claim Prime Minister Theresa May "panicked" in turning down calls for a referendum on independence.
But Mrs May, who is to speak to the Conservative spring forum in Cardiff later, will say she is working for "the whole country".
She is launching a "Plan for Britain".
Mrs May is expected to describe it as "a plan for a brighter future".
Mr Robertson will say the SNP's approach is to trust the people of Scotland.
He is expected to add: "It is clear from the PM's panicked response to the Scottish government's decision to rightly give people in Scotland a choice over Scotland's future, that the Tories are simply scared of the people's choice.
"The Tories' argument is not about process, it is about their desperate desire to prevent anyone having the chance to reject the hard right Brexit that they are so wedded to.
"The truth is it should not be for either Theresa May or the Scottish government to decide Scotland's future. That choice belongs to the parliament and the people of Scotland and it is one this party will never shy away from."
SNP delegates have gathered in Aberdeen just 24 hours after the Scottish and UK governments clashed over a second independence referendum.
First Minister Nicola Sturgeon has insisted that a referendum should go ahead on her timescale.
It followed Prime Minister Theresa May rejecting calls for a second independence vote before Brexit.
A key theme of the prime minister's Cardiff speech is expected to be the creation of a more united Britain.
She will say: "That union is more than just a constitutional artefact. It is a union between all of our citizens, whoever we are and wherever we're from.
"So our plan for Britain will put strengthening and sustaining that Union at its heart.
"It means taking the big decisions when they're the right ones for Britain in the long-term. Putting the national interest above any other consideration.
"And it means ensuring that we act in the interests of the whole country – creating jobs and supporting cities, towns and communities right across our United Kingdom."
Mrs May has accused the SNP of forcing a "fundamentally unfair" independence referendum that would damage Brexit negotiations.
Writing in the Times, she said: "The SNP is trying to force the UK government to agree to something that is fundamentally unfair to the Scottish people.
"It wants to ask them to make a crucial decision without the necessary information.
"They would not know what the new partnership with the EU would look like, or what the alternative of an independent Scotland would be. It would simply not be fair."
The article follows a television interview on Thursday, in which she said "all our energies" should be focused on negotiations with the European Union.
'Investing in communities'
Deputy First Minister John Swinney will address domestic Scottish matters as the parties in Scotland prepare for May's local government elections.
Mr Swinney said the spring conference, which will be attended by 2,500 delegates, would "underline our party's top priorities of education, the economy and our public services".
He said: "The choice facing voters this May is between SNP-led councils investing in communities and local services, or Tories putting cuts before all else – propped up by the Labour party.
"Every SNP vote will be a vote to protect these vital services we all depend on. All our candidates are dedicated local campaigners and believe passionately in protecting local services from these Tory cuts.
"The SNP is standing up for Scotland – will always stand up for Scotland – and will work every day to build a better country."
SNP say Conservatives are running scared of independence vote}