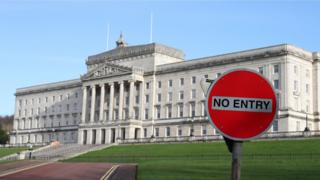 Sinn Féin was "not in agreement-finding mode" during talks to save Northern Ireland's political institutions, Democratic Unionist Party (DUP) leader Arlene Foster has said.
Negotiations to form a new power-sharing executive after this month's snap election collapsed on Sunday, ahead of Monday's 16:00 deadline.
The two biggest parties, the DUP and Sinn Féin, blamed each other.
Sinn Féin said on Sunday that the talks had "come to the end of the road".
After the talks at Stormont Castle collapsed, the Northern Ireland Office must determine the way ahead.
With no deal in sight before the deadline, Monday's assembly session to appoint a first and deputy first minister was suspended.
DUP leader Arlene Foster said she doubted whether Sinn Féin had been serious about reaching agreement during the three-week talks process.
"These talks have failed because there wasn't a recognition of everyone's mandates," the former first minister said.
"The government of Northern Ireland is not a game – it is very serious.
"The decision of Sinn Féin not to nominate today and block the creation of a new executive is very regrettable and damaging to all the people we represent."
---
Analysis: Mark Devenport, BBC News NI political editor
It was "simply the worst" talks process ever, the Ulster Unionists' chief negotiator said.
And there's not a lot of people rushing to contradict him.
Blame will be thrown in different directions.
Read more: Stormont in limbo after "worst" talks… but what next?
---
The deadlock came after an election on 2 March, which brought an end to Stormont's unionist majority – the DUP's lead over Sinn Féin was cut from 10 seats to one.
Under Northern Ireland's power-sharing agreement, the executive must be jointly run by unionists and nationalists, with the largest party being invited to put forward a candidate for first minister.
Sinn Féin's Martin McGuiness quit as deputy first minister in January in protest against the DUP's handling of a botched green energy scheme.
The party said it would not share power with Mrs Foster as first minister until the conclusion of a public inquiry into the Renewable Heat Incentive (RHI) scheme.
Mr McGuinness, who had been suffering from a rare heart condition, died last week at the age of 66.
Sinn Féin's Conor Murphy said people were living in "a fool's paradise" if they thought they could "simply walk back into the executive".
"Martin McGuinness made it very clear the difficulties that were troubling the executive and the need to get back to a new basis of genuine power-sharing and a way of doing business under the terms of the Good Friday Agreement," Mr Murphy said.
"He very clearly said, in one of his last interviews, we will not be going back to the way things were," said Mr Murphy.
He added that outstanding issues, such as dealing with the legacy of the Troubles and legislation for the Irish language, had been agreed in the past and Sinn Féin wanted to see implementation of those deals.
Over the weekend, the Stormont politicians could not find any common ground on crucial issues.
Michelle O'Neill, Sinn Féin's leader at Stormont, said on Sunday that her party would not be nominating a candidate for the position of speaker or for the executive office.
Northern Ireland Secretary James Brokenshire has since been in contact with Prime Minister Theresa May.
He faces a choice between fresh elections, direct rule from Westminster or playing for time in the hope some compromise can be found.
Ulster Unionist Party MP Tom Elliott said the government would have "to take the lead" on Monday.
Mr Brokenshire may try to buy some time by allowing the parties to reach an agreement over the assembly's Easter break, Mr Elliot added.
SDLP leader Colum Eastwood has called on Mr Brokenshire to "create space for all parties to refresh their outlook on the challenges we face".
The People Before Profit MLA Gerry Carroll said MLAs' salaries should be cut if Stormont is mothballed.
Sinn Féin did not seek agreement in Stormont talks, Foster says}