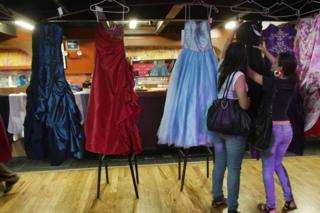 A Catholic high school's restrictive guide to prom dresses has drawn body-shaming accusations and a call for an alternative student-run prom.
A girl's (extensive) guide to prom
A Catholic high school in Illinois, USA, has been criticised for its lengthy prom dress code handbook – a whopping 21 slides.
The guidelines, which deem some dresses to be acceptable on certain body types but not others has prompted a call for a student-run prom.
While the gentlemen's dress code is covered in just two slides, there are 15 slides in the guide for the ladies.
The policy provides illustrations on acceptable and non-acceptable dresses including on two-pieces, necklines, back, cut-outs and mesh.
Boylan Catholic High School's prom is due to be held in May.
A Twitter account calling for an alternative student run prom said: "We all know these rules are stiff, this will be a reserved venue costing $25 a person."
Students from other schools are also challenging their prom dress codes.
A student in California tweeted: "I really really wanna go to Edisons prom but the dress code is beyond STUPID."
Another added that she would be annoyed if her school were to enforce a dress code.
---
You might also be interested in:
Is your workplace dress code sexist?
Top tips to help your child improve their body image
---
In response to the Boylan guide, a former pupil said: "So glad to see you made national news for body shaming your young girls. Will you also be banning their sports uniforms for being too revealing? Not a proud day to be an alumni."
A senior and former cheerleader at the school added: "Glad we are becoming national news! Maybe it's time to change the rules @boylan???"
"Thank you to the woman who thinks Boylan girls come off of stripper poles," another girl continued.
Reflecting on her own experiences of finding a prom dress, Jane Horvat tweeted a note which read:
"As a tall, curvy muscular woman with an athletic build, finding clothes that fit let alone flatter my frame has always been challenging. There have been many shopping trips that have ended in tears and me body shaming myself when I look in the dressing room mirror.
"The restrictions that Boylan has now placed on the women attending prom…do not keep in mind the fact that choosing attire can be a stressful and unhealthy time for a woman because she is overly conscious of what she perceives to be wrong with her body."
Jane continued: "To all the girls attending Boylan's prom this year, no matter what dress you end up wearing, I want you to know that you and your body are unique and beautiful."
According to The Rockford Register Star, Boylan President Amy Ott said the purpose of the guidelines is to "help not hurt" the girls.
She said: "We think it's important as a Catholic institution to help our students see that they can be elegant and modest and beautiful at the same time."
By the UGC and Social News team
School prom dress rules 'body shaming'