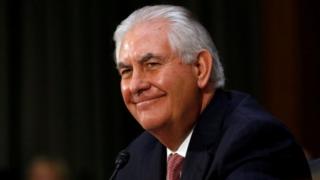 US Secretary of State Rex Tillerson will miss a meeting of Nato foreign ministers next month, US officials say.
He will instead travel to a G7 meeting in Sicily, Italy, and then to Moscow to met Russian leaders.
Under Secretary of State Tom Shannon will represent the US at the Western military alliance meeting in Brussels.
Correspondents say the move will add to concerns about US President Donald Trump's commitment to Nato as he seeks better relations with Moscow.
US officials said Mr Tillerson would meet Nato diplomats this week in Washington for a conference on defeating the Islamic State group.
Russian links
During his election campaign, Mr Trump expressed admiration for Russian President Vladimir Putin and described Nato as "obsolete".
Mr Tillerson had close links with the Russian government while he was CEO of Exxon Mobil and has questioned the sanctions imposed on Russia after its annexation of the Crimea region.
During a visit to Nato headquarters in Brussels last month, US Vice President Mike Pence attempted to reassure US allies about the new government's commitment to them.
But he also said that Mr Trump expected Nato members to make substantial progress by the end of the year towards meeting agreed defence spending increases.
Rex Tillerson to skip Nato meeting – but visit Moscow