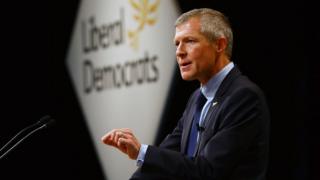 Willie Rennie is to urge the Scottish Lib Dems to help "turn back the tide of division" ahead of the party's spring conference in Perth.
Mr Rennie will present his party as being at odds with the Conservatives and SNP by backing the UK and the EU.
Speakers at the two-day event include former Deputy Prime Minister Nick Clegg and Mr Rennie himself.
There will be policy debates on the UK and Europe, mental health, consumer advocacy and HGV speed limits.
Ahead of the conference, Mr Rennie said the Lib Dems speak for "the majority of people in our country".
The Lib Dem leader said the Tories and Labour were "walking hand in hand towards a hard Brexit", while the SNP were "hurtling towards another damaging independence referendum".
'Open, tolerant and united'
He said: "A majority of people in Scotland want to keep the United Kingdom but the SNP want to burn it down. They do not speak for Scotland. And a majority of people in Scotland want to keep the European Union but the Conservatives want to burn that down. They do not speak for Scotland.
"No one else stands with the majority of Scotland apart from the Liberal Democrats. We believe that our country is best served when it is open, tolerant and united. We fight against division and refuse to give up on a United Kingdom within the EU."
The Lib Dems support a referendum on the final Brexit deal, while opposing a second Scottish independence referendum.
Mr Clegg and the party's sole MP Alistair Carmichael will speak on Friday, with Mr Rennie and party President Sal Brinton speaking on Saturday.
Mr Rennie added: "We can turn back the tide of division. We can celebrate both our differences and the ties that bind us. We can say no to independence and yes to partnership. We can, once and for all, put an end to the claim that if you do not believe in independence you do not believe in Scotland."
Rennie: Lib Dems must 'turn back the tide of division'}