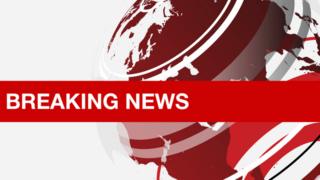 A police officer has been stabbed in the Houses of Parliament in central London, Commons Leader David Lidington has said.
He told MPs the "alleged assailant was shot by armed police" following a "serious" incident.
Staff inside Parliament were told to stay inside their offices.
The BBC's Laura Kuenssberg said police told her someone had been shot and MPs said they heard "three or four gunshots".
Tom Peck, political editor for the Independent, tweeted: "There was a loud bang. Screams. Commotion. Then the sound of gunshots. Armed police everywhere."
Scotland Yard said it was called to a firearms incident on Westminster Bridge amid reports of several people injured.
Transport for London said Westminster underground station has been shut at the police's request.
Police officer 'stabbed at UK Parliament'}