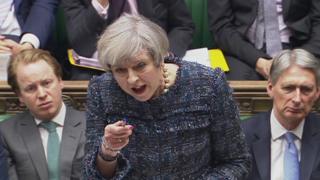 Theresa May has launched an attack on Labour leader Jeremy Corbyn for sending his son to a grammar school.
At Prime Minister's Questions she said: "Typical Labour, take the advantage and pull up the ladder behind you."
Mr Corbyn had accused the government of finding money for Mrs May's grammar school "vanity project" while cutting funding for other schools.
The Labour leader's son Ben went to a North London grammar school although Mr Corbyn was reported to be against it.
The issue is said to have led to the break-up of Mr Corbyn's marriage in the late 1990s, with his then wife Claudia insisting that the child should not attend a local Islington comprehensive school.
During Wednesday's clashes in the Commons Mr Corbyn accused Mrs May of "betraying a generation of young people by cutting the funding for every child" with a new funding formula for schools in England.
"Children will have fewer teachers, larger classes, fewer subjects to choose from and all the Prime Minister can do is focus on her grammar school vanity project that can only ever benefit a few children."
He said the government found no extra money in the Budget for schools but offered £320m for Mrs May's grammar school "vanity" project.
The prime minister said the funding formula would be fair to all but stressed that it was still at the consultation stage and had not been finalised.
She then rounded on Mr Corbyn and his front bench team, listing those who attended a private school or a grammar school.
"He sent his own child to a grammar school, he himself went to a grammar school," she added, pointing at Mr Corbyn and accusing him of hypocrisy.
Mr Corbyn insisted he wanted a "decent, fair opportunity" for every child in every school.
Mrs May told him: "He says he wants opportunities for all children, he says he wants good school places for all children – then he should jolly well support the policies we're putting forward."
PMQs: May gets personal with Corbyn over grammar schools}