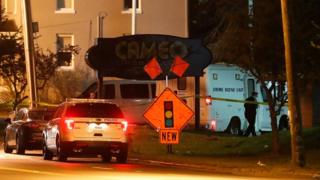 One person has been killed and 15 others injured in a shooting at the Cameo Night Club in Cincinnati, Ohio.
A "dispute" between several men escalated into a gunfight in the crowded venue, Police Chief Eliot Isaac said.
A 27-year-old man died in the incident, which occurred early on Sunday.
There was no indication the shooting was terrorism-related, Cincinnati Mayor John Cranley said at a news conference.
He went on: "However, to the victims, what difference does it make?"
Police Chief Isaac said a "couple of hundred people" were inside the "very large establishment" when the incident occurred.
"Several local men got into some kind of dispute inside the bar and it escalated into shots being fired from several individuals," he said.
The police chief said that despite security checks, several firearms had been brought into the nightclub. Investigators are still trying to identify the shooters.
One of the injured is in a very critical condition, Police Chief Isaac said, adding that emergency services began to receive calls at about 01:30 local time (05:30 GMT) reporting that shots had been fired.
Earlier Captain Kimberly Williams told journalists there were at least two reported gunmen, who were still at large.
The Cameo Night Club had had problems in the past "but this is by far the worst", she said. A shooting inside the club occurred on New Year's Day in 2015, and in the car park in September that year, officials said.
Ohio Governor John Kasich said he was "saddened" by the shooting.
It comes less than a year after gunman Omar Mateen opened fire at a gay nightclub in Orlando, Florida.
Mateen killed 49 people in the deadliest mass shooting in US history.
Ohio nightclub shooting: One dead, 15 injured in gunfight