On May 20, 2015, the NCAA's vice president for enforcement sent North Carolina a letter alleging lack of institutional control by the university for providing athletes special access to fraudulent African Studies courses. It noted that the practice continued unchecked for 18 years, "particularly in the sports of football, men's basketball and women's basketball."
Ordinarily, that Notice of Allegations would have led to a Committee on Infractions hearing, and, a few months later, sanctions. Nearly two years later, however, the case continues to drag on due to a series of unusual maneuvers by each side.
Which has worked out exceptionally well for North Carolina.
This weekend, the Tar Heels will make their second straight trip to the men's Final Four. Had the academic scandal resolved itself more swiftly, it's not a stretch to think UNC might have been ineligible for at least one if not both of those NCAA tournaments.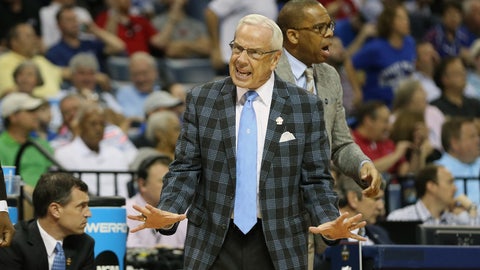 To be clear, no one currently involved with UNC basketball has ever been implicated in any NCAA wrongdoing. The allegations at the heart of the case cover a period from 2002-11 and do not mention Roy Williams or any other basketball staff member.
It's also impossible to predict whether North Carolina's eventual punishment will include a postseason ban for men's basketball or any other team. NCAA discipline is notoriously inconsistent from one case to the next.
But short of the Death Penalty — which it handed down just once, 30 years ago, to SMU football — a postseason ban is the most punitive measure in the NCAA's arsenal.
It's long been a matter of when, not if, the NCAA levies some form of heavy penalty against the UNC athletic department. The case is widely considered the most egregious academic fraud scandal in NCAA history, so concerning to the Committee on Infractions that at one point last year the prosecutors essentially sent the file back to investigators to make a stronger case.
That's just one of many unusual steps that's given North Carolina an extended reprieve the past several years — and the Tar Heels have certainly made the most of it.
Williams has lamented many times over the past several years the cloud of the school's seemingly never-ending NCAA saga. "I'm tired of this junk," Williams, 66, said in December following another development. "… I'd hoped that the NCAA thing would be over before I retired. Now I'm hoping it will be over before I die."
While the coach's frustration with the long wait is understandable, perhaps he should also feel a bit grateful for the opportunity it provided.
For the three seasons from 2012-15, Williams' teams uncharacteristically finished no better than third in the ACC and did not make it past the Sweet 16. Many wondered then whether the scandal was taking a toll on the program. Williams admitted as much in March 2015. "I feel like sometimes we're recruiting with our hands tied behind our back," he said then. Elite-level recruits he might have previously signed were declining to even visit campus.
But then, just as the case was seemingly nearing a resolution, the Tar Heels rediscovered their mojo. In contrast to the hordes of one-and-dones driving their peers like Duke, Kentucky and Kansas, UNC developed a core of veterans — 2016 seniors Marcus Paige and Brice Johnson; 2017 upperclassmen Justin Jackson, Joel Berry II, Kennedy Meeks and Isaiah Hicks — that have keyed back-to-back ACC championships and Final Four runs.
Knowing the severity of the allegations, other schools might have begged for mercy by self-imposing a postseason ban. North Carolina has done the opposite. It's stalled, obfuscated and contested the NCAA's authority, which has only served to draw out an already laborious process even further.
It's a strategy that may only hurt the school in the long-term, but in the short-term it's proven a stroke of genius. Given a window of opportunity, the Tar Heels have pounced.
And if this run ends next Monday with Williams hoisting his third national championship trophy, you might say those $18 million in legal fees were well-spent.
For those who have not followed every gory detail of the now six-year old investigation, here's a brief recap of all the various twists and turns.
— Originating with an earlier extra benefits case that led to a 2012 postseason ban for UNC football, Raleigh News and Observer reporter Dan Kane begins uncovering a scheme by which the chair of the school's African and Afro-American Studies department and his office manager had been administering bogus lecture courses that never actually met from as far back as 1993. He finds that Tar Heel athletes were disproportionately enrolled in them.
— The NCAA does not reassert itself into the matter until 2014, shortly before university-appointed investigator Kenneth Wainstein issues a report that finds nearly half of the 3,100 students who took the non-existent classes were athletes. Many were steered there by the athletic department's academic support staff.
— The NCAA issues its first Notice of Allegations in May 2015 and gives the university 90 days to respond. However, that August the school announces it has discovered "new information" — such as unrelated recruiting violations in men's soccer — that essentially restarts the process.
— A few weeks after UNC loses to Villanova in the April 2016 national title game, the NCAA issues a mysteriously watered down amended notice. Gone are any mentions of impermissible benefits or specific references to football or men's basketball, and a truncated timeline of events conveniently exempts the Tar Heels' 2005 national title team.
— Still not satisfied, the school responds last August by defiantly arguing that the NCAA lacks jurisdiction to even hear a case involving academic fraud. The Committee on Infractions holds a special "pre-trial" hearing in October and makes abundantly clear that it disagrees.
— At the committee's request, the NCAA staff in December issues a highly unusual third Notice of Allegations. The latest amended version basically restores all of the most serious allegations from the original version.
— As of March 15, the school had not yet responded to the latest notice and was "awaiting guidance from the committee … on a new schedule." This after one of the central figures in the case, office manager Deborah Crowder, suddenly filed an affidavit insisting the classes were legit.
All of which means we're no closer to the already much-delayed hearing.
Obviously, that's a lot to follow. Which is presumably just how North Carolina would like it. The school would prefer you don't get bogged down with the details of its fraudulent past and instead cheer on Jackson, Berry, Meeks and Hicks as they prepare to take on third-seeded Oregon on Saturday in Glendale, Arizona.
After all, nothing would mitigate the potential sting of looming sanctions better than a national championship.
And besides, North Carolina AD Bubba Cunningham would have you believe that the NCAA, not his school, is the bad guy in all of this. Last month he lamented to CBSSports.com's Dennis Dodd that the organization "overcharged" UNC and is essentially exerting judicial overreach.
"Is this academic fraud? Yes, it is by a normal person's standards," he said. "But by the NCAA definition [it is not]."
It's the kind of line that would make you chuckle if it wasn't so infuriating.
Ultimately, though, it might be UNC that gets the last laugh.
North Carolina might be the most fortunate team in this Final Four – FOXSports.com