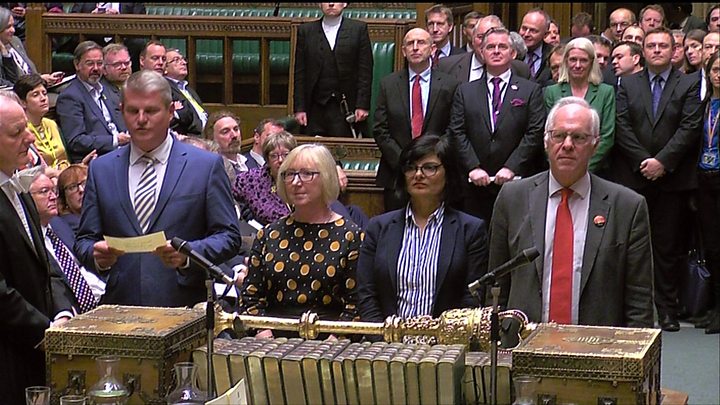 MPs have approved the Queen's Speech, which sets out Boris Johnson's priorities for the parliamentary session, by 310 votes to 294.
Labour and SNP amendments criticising the speech were rejected.
The chancellor said the speech delivered on "people's priorities", but Labour said it only offered "a few cynical publicity stunt commitments".
The Queen's Speech sets out 26 bills, covering areas including Brexit, criminal justice and the NHS.
However, if the prime minister succeeds in his bid, announced this afternoon, to hold an election in December, much of this Queen's Speech will not be acted upon, unless the same plans are brought forward in the new Parliament.
Labour's amendment said the speech did not address rebuilding the economy or tackle the "housing crisis", and "further pushes public services into crisis". It also called on the government to introduce measures on these issues, as well as the "climate emergency".
MPs also rejected the SNP's amendment which included demands for the retention of freedom of movement between the UK and Europe and a net-zero greenhouse gas emissions target by 2045.
Speaker John Bercow did not pick a Liberal Democrat amendment calling for a second referendum on the EU membership.
What is in the Queen's Speech?
Last week's Queen's Speech set out 26 bills the government wanted to introduce. These included:
Seven pieces of Brexit-related legislation
Seven criminal justice bills
Plans for an independent NHS investigations body with legal powers
An environment bill to "enshrine principles in law" and set legally binding "improvement targets"
Proposed reforms to the divorce laws to minimise the impact of family breakdown on children
Changes in employment law to require restaurants and cafes to give waiting staff "all tips" owed to them
MPs approve Queen's Speech by 16 votes}