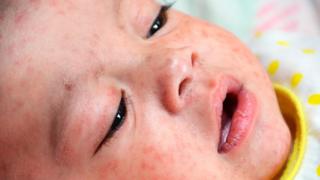 Measles is spreading across Europe wherever immunisation coverage has dropped, the World Health Organization is warning.
The largest outbreaks are being seen in Italy and Romania.
In the first month of this year, Italy reported more than 200 cases. Romania has reported more than 3,400 cases and 17 deaths since January 2016.
Measles is highly contagious. Travel patterns mean no person or country is beyond its reach, says the WHO.
For good protection, it's recommended that at least 95% of the population is vaccinated against the disease.
But many countries are struggling to achieve that.
Most of the measles cases have been found in countries where immunisation has dipped below this threshold and the infection is endemic – France, Germany, Italy, Poland, Romania, Switzerland and Ukraine.
Preliminary information for February suggests that the number of new infections is rising sharply, says the WHO.
WHO regional director for Europe Dr Zsuzsanna Jakab said: "I urge all endemic countries to take urgent measures to stop transmission of measles within their borders, and all countries that have already achieved this to keep up their guard and sustain high immunisation coverage."
The European Centre for Disease Prevention and Control says that between 1 February 2016 and 31 January 2017 the UK reported 575 cases of measles.
The MMR (measles, mumps and rubella) vaccine is available on the NHS for babies and pre-school children.
Lagging immunisation
Robb Butler, of the WHO Regional Office for Europe, says there are a number of reasons why vaccination coverage has waned in some regions.
"In some countries, like the Ukaraine, there have been supply and procurement issues. They have gone long periods of time without the vaccines because they struggle with the high prices."
Then there's vaccine hesitancy. Some people are fearful of vaccination, while others are complacent or find it an inconvenience, he says.
In France, for example, people need to make an appointment with their doctor to get a prescription, go to the pharmacy to collect the vaccine and then rebook with their doctor to have the jab administered.
"We need to get to the point where we appreciate that people have busy lives and competing priorities."
Measles
Unvaccinated young children are at highest risk of measles and its complications, including death
Measles is spread by direct contact and through the air by coughs and sneezes
The virus remains active and contagious on infected surfaces for up to two hours
The first signs of infection are usually a high fever and cold-like symptoms, such as a runny nose
You may notice small white spots on the inside of the cheeks as well
After several days, a rash develops, usually on the face and neck first and then spreading to the body and limbs
An infected person can pass on the virus to others from four days prior to developing the skin rash to four days after the rash erupts
There is no treatment, but two doses of vaccine can prevent infection in the first place
Measles outbreak across Europe