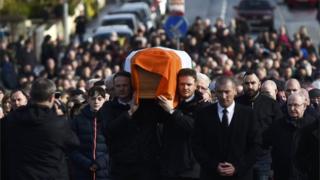 The Northern Ireland Assembly is to meet later to remember former deputy first minister Martin McGuinness.
The speaker has invited members to gather at midday to pay tribute to the former IRA leader turned peacemaker.
The Sinn Féin politician died early on Tuesday in a Londonderry hospital with his family by his side. He was 66 years old.
He had been suffering from a rare heart condition. His funeral is to take place in his native Derry on Thursday.
The flag above Leinster House (Irish parliament) in Dublin will be flown at half-mast on Thursday.
Vigils were held in Derry, Belfast and Dublin for the republican figurehead, who worked at the heart of the power-sharing government following the 1998 Good Friday Agreement.
Among the seismic moments in his time in government was the famous handshake with the Queen in 2012 and a toast to her Majesty at Windsor Castle.
Politicians and others have been giving their reaction to Mr McGuinness' death, as have those who lost loved ones or were injured in the IRA campaign.
Mr McGuinness became deputy first minister in 2007, standing alongside Democratic Unionist Party leaders Ian Paisley, Peter Robinson and Arlene Foster.
A visibly ailing Mr McGuinness stood down from his post in January to protest against the DUP's handling of an energy scandal, in a move that triggered a snap election.
Analysis: BBC News NI Home Affairs Correspondent Vincent Kearney
No-one knows how many people Martin McGuinness killed, directly or indirectly.
As a senior commander in the Provisional IRA for many years, there is no doubt there was blood on his hands.
Security sources say he went on to become chief of staff of the organisation from the early 1980s, right through until the end of the IRA's campaign of violence.
Nothing happened in Derry without him knowing.
Sinn Féin president Gerry Adams said: "He was a passionate republican who worked tirelessly for peace and reconciliation and for the re-unification of his country. But above all he loved his family and the people of Derry and he was immensely proud of both."
Those who lost loved ones, or were injured in the IRA's bombing campaigns, harbour painful memories.
Some said the pain had been soothed by McGuinness' willingness to compromise for peace in Northern Ireland. Others were less forgiving.
Martin McGuinness grew up in Derry's Bogside, radicalised, he said, by discrimination and murder in his city.
In 1972, at the age of 21, he was second-in-command of the IRA in Derry at the time of Bloody Sunday, when 14 civil rights protesters were killed in the city by soldiers.
The years that followed saw the IRA hunger strikes, the Brighton bombing when Margaret Thatcher and the Tory Party conference were targeted and the Enniskillen bomb in 1987, in which 11 people died.
His shift to politics came slowly. Martin McGuinness was chief negotiator in the blossoming peace process and took on the post of education minister.
By 2007, he was Northern Ireland's deputy first minister.
In recent years, he said: "My war is over. My job as a political leader is to prevent that war and I feel very passionate about it."
Mr McGuinness' funeral will leave his home on Thursday at 13:20 GMT ahead of Requiem Mass at St Columba's Church Longtower at 14:00. He will be buried in the City Cemetery.
Martin McGuinness: NI Assembly to remember former minister}