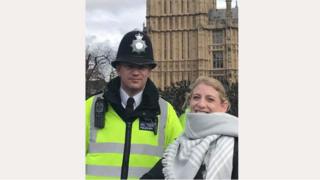 A "final" picture of PC Keith Palmer taken shortly before he was killed in the Westminster attack has emerged.
The photo was taken by US tourist Staci Martin as she posed with the officer 45 minutes before he was stabbed by Khalid Masood outside Parliament.
She said she had asked PC Palmer for a photo because she liked his hat and he had been "really nice" in agreeing.
After learning what had happened to him, she said she wanted to share the picture with his family.
Others have come forward to pay tribute to the late officer's bravery, including a former colleague who said he saved her life during a road accident in 2007.
The family of PC Palmer, who had a five-year old daughter, have said he would be remembered as a "wonderful dad and husband".
A JustGiving page set up for the family of PC Palmer has raised more than £360,000 in less than 48 hours.
The Metropolitan Police said that as a mark of respect, the constable's shoulder number, 4157U, would be retired and not reissued to any other officer.
Ms Martin was on a visit from Florida to London when she asked to take a picture with the officer outside Parliament on Wednesday afternoon.
"It's my first time in London and I see his hat and I'm like, 'I have to take a picture of him with his hat,'" she told ABC News.
"I walked up to him and said 'do you mind if I take a picture?' He said 'no problem', he was really nice."
Less than an hour later, Ms Martin was in a taxi when she heard there had been a shooting and saw a helicopter and emergency vehicles.
She recognised PC Palmer from the photo released after it was confirmed he had been killed in the attack.
Ms Martin believes the picture with the officer must be one of the last photos of him taken alive and she feels "obligated" to get it to his family, adding: "I just want to make sure they have that of him."
PC Palmer was an unarmed member of the Parliamentary and Diplomatic Protection Squad, who had served in the force for 15 years.
He has previously served in the Territorial Support Group (TSG), based in Catford, and in Bromley borough.
Home Secretary Amber Rudd and London Mayor Sadiq Khan joined hundreds of people at a candlelit vigil in Trafalgar Square on Thursday evening to remember the people who lost their lives.
Aysha Frade, a teacher in her 40s, and US tourist Kurt Cochran, 54, were killed on Wednesday, while a 75-year-old man died on Thursday evening after his life support machine was turned off.
He was named on Friday as Leslie Rhodes, from Streatham in south London.
Get news from the BBC in your inbox, each weekday morning
Have you been affected by recent events? If you are willing to do so, share with us by emailing haveyoursay@bbc.co.uk.
Please include a contact number if you are willing to speak to a BBC journalist. You can also contact us in the following ways:
London attack: 'Final' photo of killed PC Keith Palmer emerges}