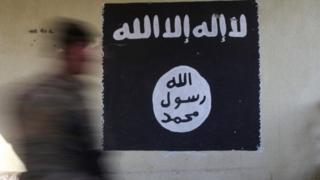 US forces are helping coalition allies in a new assault on a key area in the IS stronghold of Raqqa province in Syria, the Pentagon has confirmed.
US-supported fighters have been airlifted by the American military in a bid to retake Tabqa dam.
The development came as a US-led coalition met in Washington to discuss the battle against IS.
Secretary of State Rex Tillerson said it was "only a matter of time" until IS leader Abu Bakr al-Baghdadi was killed.
Wednesday's gathering at the State Department was the first summit of the full 68-member group since December 2014.
The Pentagon said US and allied Syrian rebel infantry forces were air-dropped near Tabqa on the Euphrates River, in Raqqa province.
The Defence Department confirmed to the BBC that US forces were supporting Syrian Democratic Forces working to retake Tabqa from IS.
Mr Tillerson told the coalition that the US was "ready to grow stronger and stay aggressive in this battle" against so-called Islamic State.
It was the "policy of the US to demolish and destroy this barbaric terrorist organisation", he said.
---
Read more
Inside 'Islamic State': A Raqqa diary
Islamic State group: The full story
---
IS conflict: US forces support new assault near Raqqa stronghold