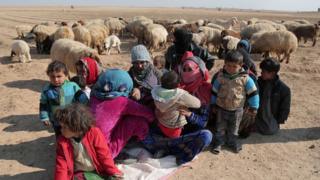 At least 33 people have been killed in an air strike on a school in a village west of the Islamic State-held Syrian city of Raqqa, a monitoring group says.
The Syrian Observatory for Human Rights said the building in al-Mansoura was being used as a shelter for displaced people when it was hit on Monday night.
The activist group Raqqa is Being Slaughtered Silently said the fate of 50 families who were there was unknown.
Both groups believe the raid was carried out by US-led coalition jets.
There was no immediate comment from the coalition, but it has said there were 19 strikes near Raqqa on Monday, including three that destroyed IS "headquarters".
The coalition is supporting an offensive by an alliance of Syrian Kurdish and Arab fighters aimed at capturing Raqqa, the de facto capital of the "caliphate" proclaimed by IS in 2014.
The Syrian Observatory, which is based in the UK, said one of its activists had witnessed 33 bodies being pulled out of the rubble of the school in al-Mansoura, in the western Raqqa countryside.
Two other people were found out alive before IS militants arrived and told bystanders to leave, it added.
Residents of the village told the Syrian Observatory that displaced families from Raqqa, Homs and Aleppo provinces were living in the school.
The Syrian Observatory said Monday's air strike meant at least 116 civilians, including 18 children and 23 women, had been killed in suspected coalition air strikes in the past two weeks.
IS conflict: Air strike 'kills dozens in village near Raqqa'}