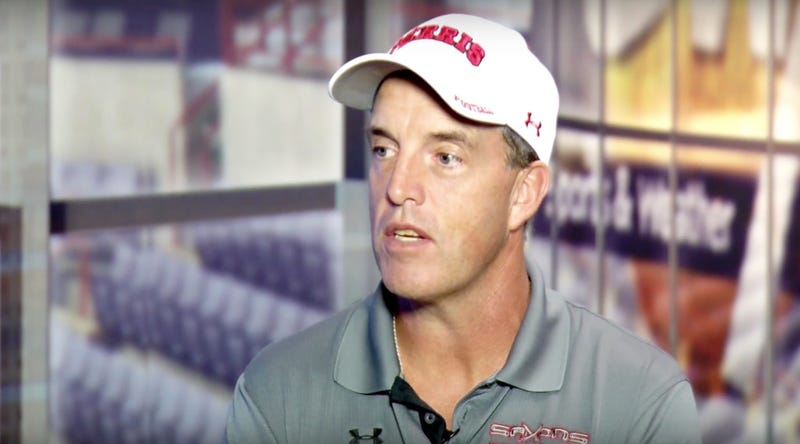 A high school football coach in Spokane, Wash., has been suspended with pay while the school investigates complaints that he exposed himself to students at a leadership camp last summer. According to public records describing the allegations, which were obtained by local news organizations, the coach put his penis in a hot dog bun, showed it to players, and said, "You think that is a big dog – take a look at this."
The Ferris High School coach, Jim Sharkey, was suspended in February, according to the Spokesman-Review; the newspaper reported the specifics of allegations this weekend after obtaining notes from Spokane public schools about the complaints:
A couple of weeks after the camp, a Ferris player came forward and said that while Sharkey was grilling, he turned with his exposed penis inside a hot dog bun. Sharkey said, "You think that is a big dog – take a look at this," according to school records that listed multiple different versions of the same quote.

While the coach got a written reprimand and was allowed to coach this past fall, school officials placed him on administrative leave Feb. 1 after more players claimed to have seen the hot dog incident and other students brought up separate incidents of questionable behavior by the 11-year teacher and coach.
Sharkey denies exposing himself, and according to local CBS affiliate KREM, he was frustrated when the district's director of personnel Mary Templeton revisited the allegations in January, after more students came forward:
"You already investigated this and I signed a paper," [Sharkey said], according to the documents.

[Templeton] said she had received new information that he had exposed himself.

"How many students said I exposed myself?" said Sharkey.

"Several," Templeton replied.

"Oh come on – how many?!" Sharkey said.

"Numerous," said Templeton

"Oh please. Several – numerous?!" Sharkey said.

Templeton eventually told Sharkey three students had reported it.
Sharkey was also accused of drinking alcohol in front of players at the camp, and calling a female student a "puck slut" or "puck bunny," because she was friends with hockey players who attended the school. The reports also said a student alleged that football players would gang up on a player on his birthday and shove their fingers in the player's anus, which they called "juicing." The complaint said no adults knew about these incidents.
Sharkey denied drinking at the camp, but admitted he saw other adults drinking, per the reports, and said the comment about the female student was "not meant to be inappropriate." Sharkey also denied that the football team birthday hazings had taken place. Citing the notes, the Spokesman-Review wrote that he said, "I would not allow this. No way. You better have dates and times of the juicing – if you say 10-15 times – you just better be able to tell me exactly when, who."
h/t Elliott