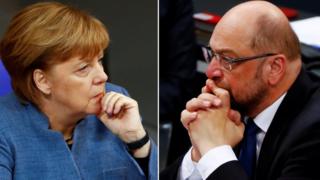 German politicians have achieved a breakthrough in talks aimed at forming a new coalition government.
A 28-page blueprint for negotiations was agreed between Chancellor Angela Merkel's Christian Democrats (CDU) and their former coalition partners, the Social Democrats (SPD).
Politicians stayed up all night thrashing out a deal, with the talks lasting more than 24 hours.
But they managed to reach agreement on key sticking points such as migration.
They plan to limit asylum-seeker arrivals to about 200,000 annually. The blueprint also speaks of capping at 1,000 a month the number of migrants who will be allowed to join their family living in Germany.
The talks also focused on tax changes, German media say. The CDU is pushing to scrap the solidarity tax paid for developing former communist east Germany.
The CDU and its Bavarian CSU ally have been unable to form a government since inconclusive elections in September.
It is Germany's longest ever post-war period of coalition-building and there is still a long way to go before a coalition deal can be clinched.
The SPD will hold a special congress in Bonn on 21 January to decide how to proceed.
German public broadcaster ARD says it is the longest talks marathon that Mrs Merkel has endured as German leader.
Her previous records were 17 hours spent negotiating the Minsk ceasefire deal for Ukraine in February 2015 and 17 hours discussing a eurozone bailout for Greece in July 2015.
Germany coalition talks: Merkel aides see breakthrough