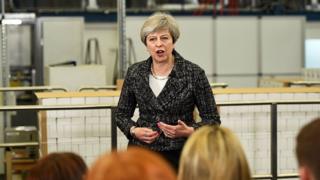 Prime Minister Theresa May has ruled out cuts to the UK foreign aid budget if she wins the general election.
She said the government's commitment to spending 0.7% of national income on foreign aid "will remain".
But at an election event in her constituency, she stressed the need to ensure the money is spent "in the most effective way".
It follows speculation she was ready to drop the commitment from the Conservative election manifesto.
The 0.7% commitment was adopted by David Cameron when he became prime minister in 2010 and later enshrined in law.
The UK has met the international target – which originates in United Nations aspirations from the 1970s – every year since 2013.
There has been talk that it might be among a number of high-profile policies championed by Mrs May's predecessor that she might drop to ease pressure on the public finances.
But asked about its future at a campaign event in Berkshire, Mrs May said: "Let's be clear, the 0.7% commitment remains and will remain.
"What we need to do though is look at how that money is spent and make sure that we are able to spend that money in the most effective way."
Former Chancellor George Osborne welcomed Mrs May's pledge, tweeting that it was the "morally right" thing to do. Microsoft founder and philanthropist Bill Gates warned recently that scrapping the commitment would cost lives.
Foreign aid spending has been ringfenced from cuts over the past seven years and has been one of the few areas to see a large increase in budgets.
In 2015, the last year for which figures are available, the UK spent £12.1bn on overseas development assistance. This was projected to rise to £13.3bn in 2016.
This has proved unpopular with some Tory MPs at a time of austerity in domestic public services and amid media reports about waste in certain aid projects.
General election 2017: No cut to UK aid spending, says May}