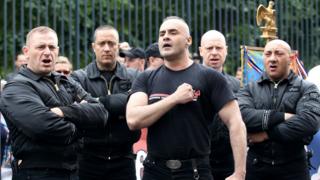 Eighteen people are going on trial in the northern French city of Amiens over a series of offences by a neo-Nazi gang known as the White Wolves Klan.
Among those due to appear in court is the notorious far-right activist, Serge Ayoub.
They face 35 charges including armed violence, theft and attempted murder.
Serge Ayoub was forced to disband two far-right groups he led after sympathisers were involved in a brawl in which a left-wing activist died.
Several of those on trial on Monday for their role in the White Wolves Klan were linked to the groups banned in 2013, the Third Way and the Revolutionary Nationalist Youth.
Serge Ayoub himself is known as "Batskin" because of his fondness for baseball bats.
Read more:
According to prosecutors the alleged offences took place between 2012 and 2014 and involved attacks on rival groups or former members trying to leave the gang.
In one incident, supporters of a group called Autonomous Nationalists were lured to a garage where they were attacked with knives.
French Neo-Nazi group goes on trial in Amiens