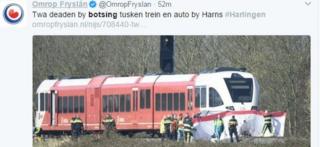 Two people have been killed in a collision between a train and a car near the Dutch town of Harlingen.
An adult and a child were killed when the car was hit on an unmanned level crossing and dragged for some distance along the track, reports said.
The car had just left a farm where a group of nursery school children had been to see new-born lambs.
There were no barriers on the private crossing but red warning lights would have been operating, local media said.
Dutch train crash near Harlingen leaves two dead